Teardrop shape green spiritual stone, hand polished natural Aquamarine crystal pendant, with sterling silver 21 gauge triple lined round and half round jewelry wire wrap setting, and with a silver plated 20" x 1.5 mm snake chain necklace.
stone size: 33.1 x 21.8 x 9.1 mm 50.35 ct.
overall pendant height: 46.6 mm
We acquired the raw stone direct from a Brazilian quarry, cut to shape and hand polished on lapidary diamond wheels to a bright shiny 50.000 grit finish. The stone is 100$ natural, no additives, color treatment, or harmful material used during the polishing process.
The name Aquamarine derive from its Greek origin, means water of the sea. As we all know, the color of the sea is rather blue, so why is this crystal green? ... Well practically Aquamarine is a green stone, and when fine specimen found, heat-treated to turn blue. Obviously, this treatment could happen naturally, under the earth crust's by volcanic activities, and pressure, but these crystals are rare finds, and usually used in small ornaments, such as rings and earrings. the price of this pendant reflects the difference between precious and semi-precious.
Metaphysically, Aquamarine is an excellent crystal for the transitions in our life, it removes the resistance to accept the new, and helps vanquish the unknown. Gives one the power to overcome fears for future carrier or moves.
Other sizes and shapes Aquamarine also available in our shop.
Free shipping to Canada and USA. International shipping by USPS, a $9.25 CDN charge added at checkout.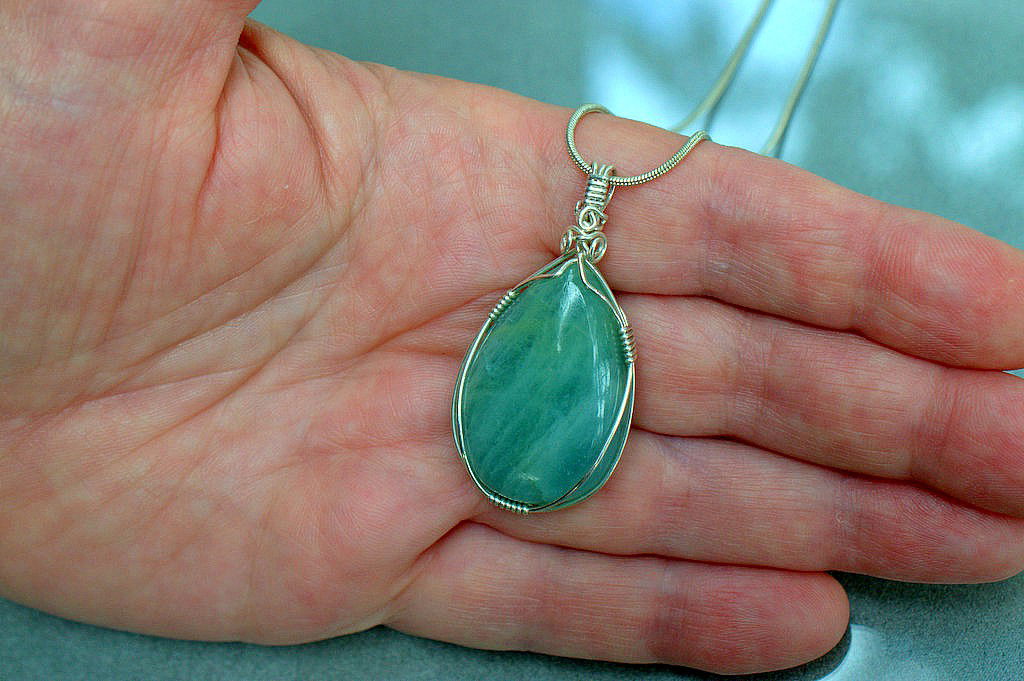 Green spiritual stone,natural Aquamarine,silver set crystal pendant