Nice large size hand carved stone moon talisman necklace for both sexes. The stone is the original black Haida Gwaii Argillite, purchased as raw stone direct by the quarry. Argillite is a fine grained rock, sediment of silt. Sometimes called as black slate, but this stone doesn't split or act like it at all. The only place on the world where found, is the west coast of Canada. Argillite is basically is clay like material, what exposed to very high temperature, most likely volcanic activity about 80 million years ago, solidified and strengthened to its present state. Relatively easy to carve, however it dries over time and require a little moisturizing time to time, or as Argillite pendant, keep rubbing it often by hand when wear it.
The carving is a unique design, only one of this carved. Polished to a satin shine, not too bright, that suit the stone perfectly. Drilled and set with sterling silver jewelry wire created hanger, and with a black leather 18" x 2 mm necklace.
stone size: 47 x 36.5 x 7 mm 87.15 ct
Moon as a talisman, necklace, popular for the water zodiac signs, Pisces, Cancer, Scorpion. The cycles of the moon has significant effect to these sighs. Moon represents the symbol of new life, every 28 days when the new moon arrives, brings new energy, intuitions to follow the dreams.
Free shipping to Canada and USA.
International shipping available with estimated USPS rates, see here.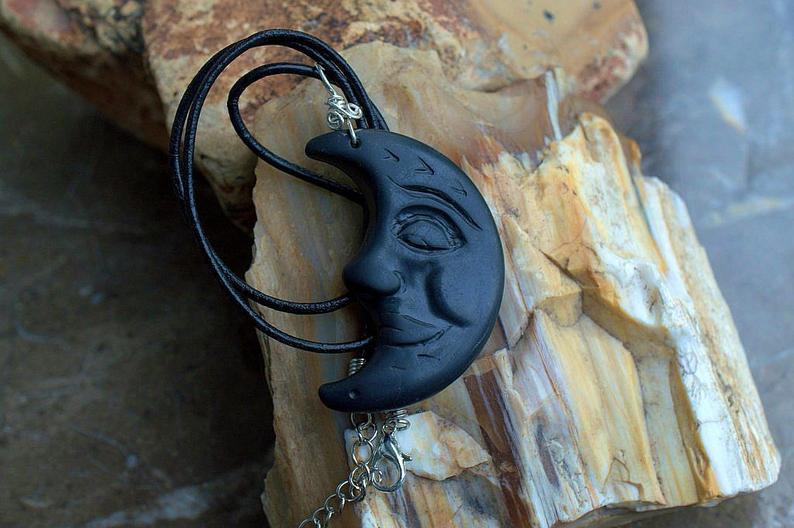 Hand carved stone moon, Argillite pendant