This new hand carved turtle meant to as an affordable personal gift idea. Palm size deep green base color natural soapstone with some lighter brown spots and veins. Carved only with hand tools such as files and rasps, polished with standard water base sand papers to 2000 grit smoothness and shine.
Soapstone is quite heavy, it's a perfect paperweight and display carving for desk decoration. The turtle sealed and buffed with non toxic bee wax, not need much maintenance, just a little care, because the stone is kind of softish and chips easily when knocked to hard object. The more contact and touching makes it stay shinier.
The large surface of the bottom signed and dated, yet enough room for your personal message carving, what's included in the listing price.
Shipping to different address, in gift box and wish card, also free of charge.
Raw carving soapstone always on stock, if you prefer a larger or smaller size carving, your custom request always welcome. Please contact for available stone colors.
5.5" x 4.25" x 2.5"
14 x 10.5 x 6.5 cm.
0.972 kg.
A one time shipping charge added at checkout. Multiplied items purchase, only the highest rate applies, see rate chart here.
Fast US bond shipping by USPS via chit-chat express, daily. No custom delays or tariffs involved, most cases 4-5 business days delivery time.
Tracking provided by email within 24 hours of confirmed payment.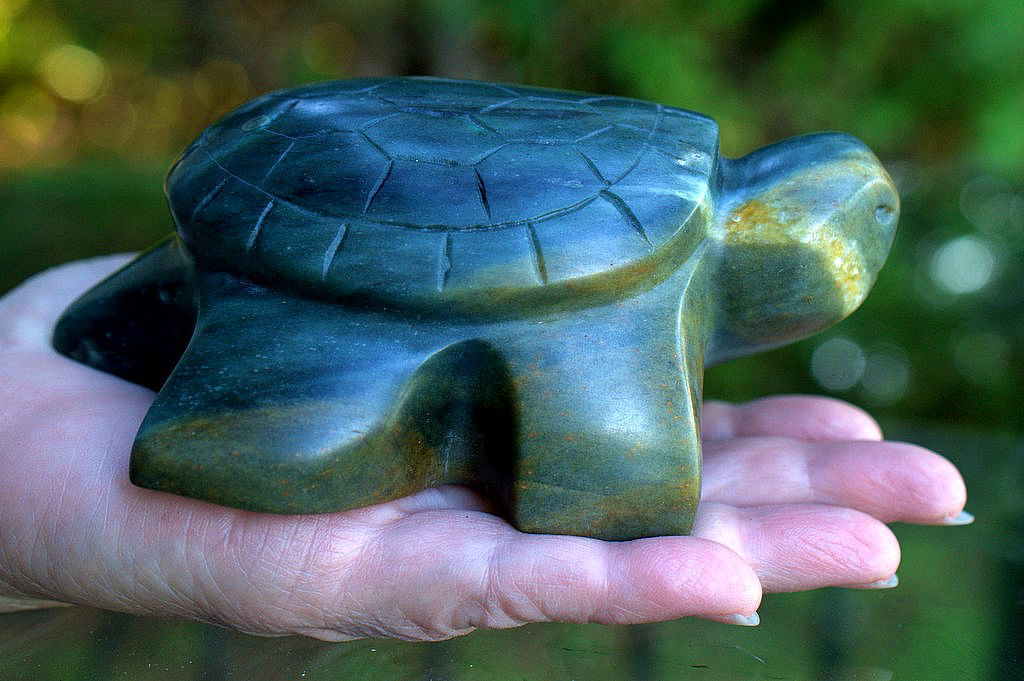 Hand carved turtle,green soapstone figurine