New handmade jewelry by Sagastone. Our physical location is surrounded by the Rocky Mountains, what gives us many opportunities to prospect minerals from its natural setting. Volcanic activities formed the landscape, and left behind many varieties of specimen stones. This black base color stone is a basalt with Andalusite crystals in it, and the pattern resembles like Chines characters. The stone washed down from the mountains by the mighty Fraser river. Our handmade jewelry is cut and polished in our shop. This Chines writing stone necklace is a modern design pendant. Polished on diamond wheels up to 50.000 grit smoothness and shine. Drilled with a 1 mm hole and set with sterling silver 21 gauge jewelry wire. The pendant also comes with a silver plated 20" x 1.5 mm snake chain necklace.
As for the metaphysical properties, Chinese writing stone is called the stone of re-affirmation, that helps to adjust to changes, and accept new responsibilities, also a good stone to stimulate logical thinking and creativity.
stone size" 40.7 x 16.1 x 6.9 mm 36.75 ct.
overall pendant height: 52.1 mm
Raw stone of this specimen still available for custom shape and size cutting, with setting of your preference.
See other shape and size pendant cut from the same stone.
Free shipping to Canada and USA. For international order please see estimated shipping rates, or contact for possible discounted shipping option by ASENDIA.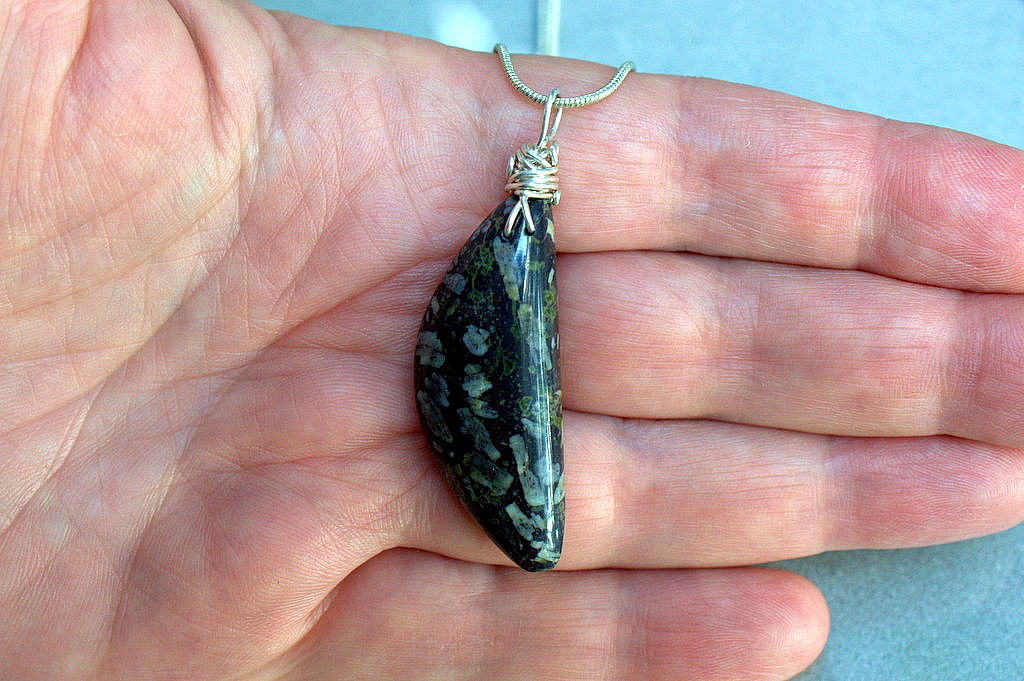 Handmade jewelry, Chinese writing stone necklace