Large size oval shape Hawk's eye pendant hand cut and hand polished natural gemstone with sterling silver 21 gauge square and half round jewelry wire wrap setting and with a silver plated 20" x 1.5 mm snake chain necklace.
stone size: 40.1 x 25.8 x 7.1 mm 63.25 ct.
Hawk's eye is a blue variety of the well known and very popular golden Tiger eye. It said the best stone for good luck and attract good fortune. According the stone's metaphysical properties, what says, this gemstone make your mind brighter, probably that's the consequence of finding the opportunities what leads to luck. Any ways you look at it, this stone is always makes a nice piece of jewelry. We cut this pendant from raw stone, if you're interested to see the slab, click here. Hand polished on diamond wheels up to 50.000 grit smoothness and shine. The wire wrapping is a simple modern style method, focuses more to the stone, than the setting, yet holds the stone firmly in place.
We usually have raw hawk's eye in stock, if you prefer a custom size or shape pendant, please contact us, we'll be happy to cut it for you.
A large collection of jewelry quality crystals and minerals also available for custom jewelry, if you're looking for a specific stone, don't hesitate to contact us, we might have your stone.
A one time shipping charge added at checkout. To Canada $4.40 USA $6.25 Rest of the world $20.35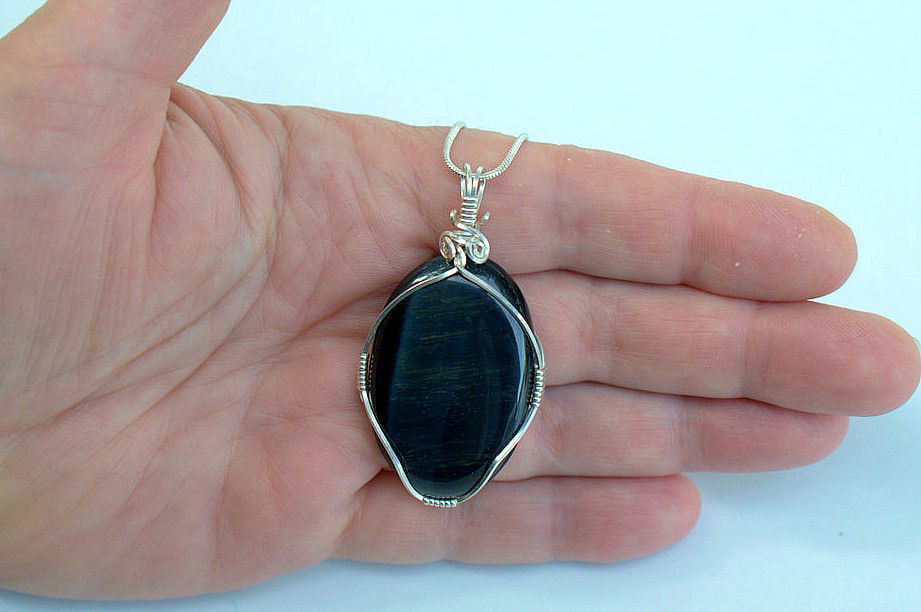 Hawk's eye pendant, jewelry for good luck