Not all glitters is gold, nothing proves it more than this stone. Apache gold is composition of two different characteristic mineral. The black part is a stone called Stealite, metamorphic rock composed mainly of talk, a common softer type fine-grained carving stone.When our earth crust moves, there are many instances that different separately recognized minerals blends together and creates a new beautiful crystal. The gold pattern in this stone caused by brass-yellow hue pyrite, also called as fools gold,an iron sulfide crystal. Apache gold, also called as healers gold, is a highly regarded stone in the metaphysical world. Best known as an energy crystal, what helps you to get rid of negativity and substitutes it to positive ones. Also known to aligns the body to the earth's magnetic fields, and enhances connection to the planet. The pendant cut from Arizona origin raw stone specimen. Designed to a large triangle shape by following the nicest pattern. Polished with an eight phase method on different smoothness diamond wheels up to 50.000 grit, to make the bright surface. The backside of the pendant also polished. The setting made with sterling silver 21 gauge square and half round jewelry wire. This safe and stylish method, makes it a trendy jewelry piece. The pendant comes with a silver plated 20" x 1.5 mm snake chain necklace, or if you prefer shorter 18", longer 24" also available by request.
The size of the stone, not including setting, 39.8 x 22.1 x 8.1 mm weights 70.85 ct.
Raw stone still available for custom shape and size cutting, however the pattern due to the nature of the stone cannot be guaranteed.
Free shipping to Canada and USA. International shipping also available, please see rates here. A cost-effective alternate shipping might be available with ASENDIA, please contact with destination for quote.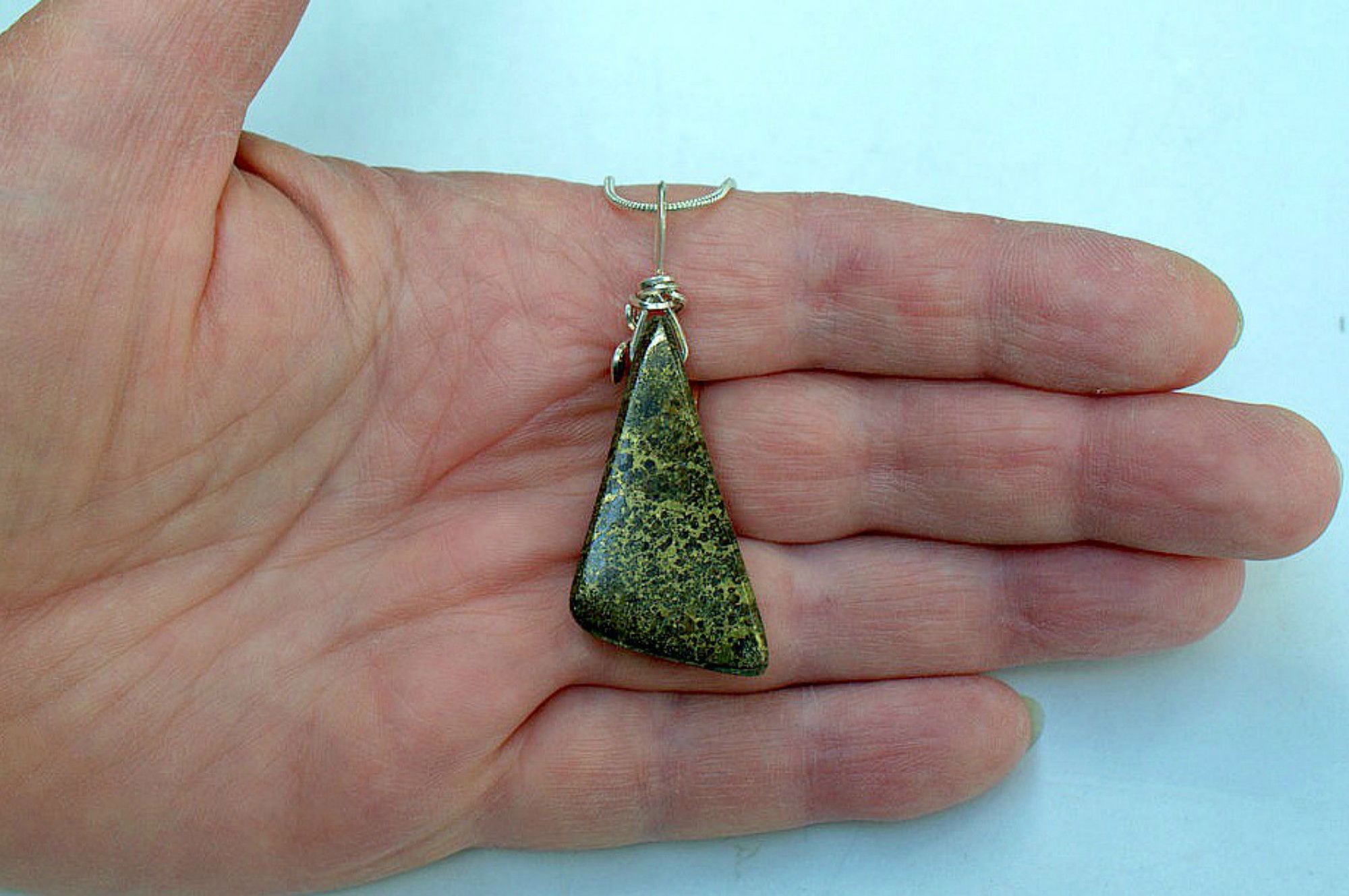 Healing stone necklace Apache gold pendant