The stunning color reminds the Pacific sunset in this huge gold sheen gemstone. The orange-yellow hue is so bright shows even in dim light, and when moves looks like a light itself. An eye-catching Labradorite jewelry, you'll get many compliments for it.
The raw stone's origin eastern Canada Labrador, the territory what the name deriving too, discovered first as a unique mineral in the mid 1800'. Selected and cut to designed shape in our shop. Polished on lapidary diamond wheels up to 50.000 grit smoothness and brilliant shine. Set with sterling silver 21 gauge square and half round jewelry wire wrapping, a modern style method, focuses to show the entire size of the stone, yet holds it firm in place. It comes with a silver plated 20" x 1.5 mm snake chain necklace. 20" is an average size for woman, however a large stone like this preferred by taller women, longer 24" length necklace also available. Please make note at checkout for preferred length.
stone size: 46.4 x 25.5 x 7.3 mm 73.80 ct.
overall pendant size including setting: 61.6 mm
We acquire raw Labradorite mineral every other months from the quarry, custom shape and size cutting available, however the pattern and hue can't guaranteed since each cut is different. All stones has a great light reflection for sure, it can determined only as more of blue, or more gold flash.
Free shipping to Canada and USA.
US bond shipping by USPS via chit-chat express, fast and trackable, 4-5 business days delivery time in most destinations.International shipping by estimated first class rates, please see it here.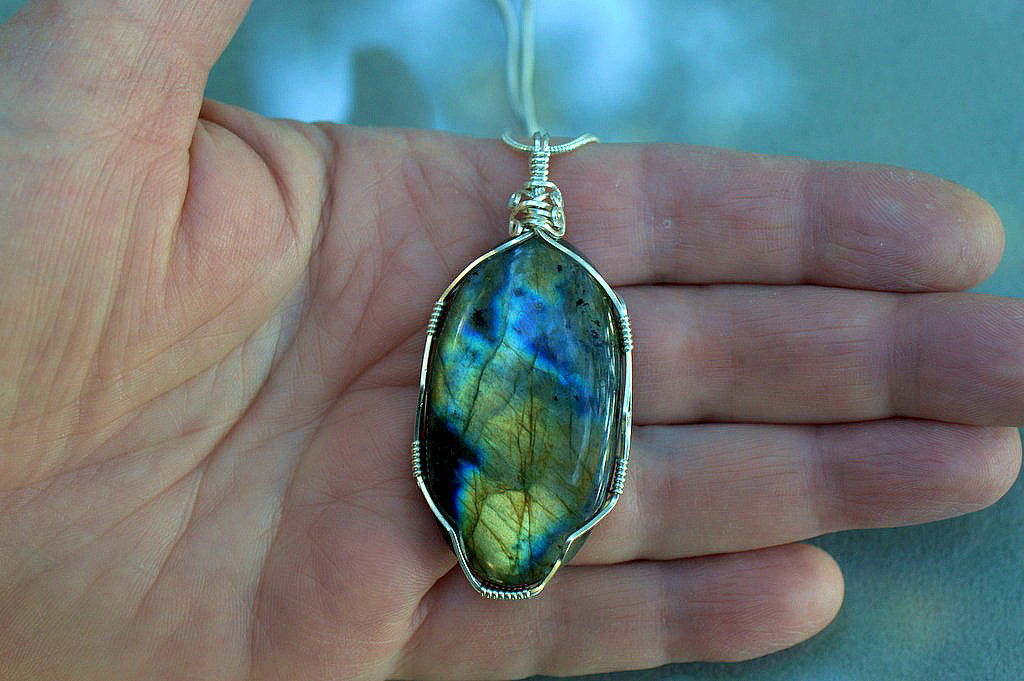 Huge gold sheen gemstone, Labradorite jewelry