Just one look at this Inca rose necklace, and you'll feel the electrical energy of this stone. Rhodochrosite belongs to the Calcite group of minerals, composed by manganese carbonate, occurs in hydro thermal veins, where copper, lead or silver is present. The color ranges from pink to red and even raspberry, with white banded layers, depending on the amount content of the manganese oxide. The nicest specimen just like this one, mined in Argentina.
Rhodochrosite resonates the ultimate feminine energy, called the stone of the compassionate heart, and obviously symbolizes love. It said by wearing it as jewelry attracts new love into one's life. Probably because it's deeply connected to woman, considered as the best healing stone for skin problems.
Rhodochrosite is the birthstone of Scorpio.
A south American legend says, beneath the Andes mountains in a secret cave, lays a huge boulder of Rhodochrosite. Believed that that is the heart of the mother earth, what beats ones in every two hundred years.
This pendant is looks like nature's purposely designed creation, the banding is so parallel and symmetric what's rarely find in any other crystals. Cut to a long marquise shape, polished on diamond wheels up to 50.000 grit smoothness and brilliant shine, drilled with a 1 mm hole and set with a sterling silver leaf design antiquated ice pick bail and with a 20" x 1.05 mm Italian made smooth .925 also sterling silver snake chain necklace. The 20" length is an average size, if you prefer shorter 18" or longer 24", please make a note at checkout.
stone size: 37.8 c 10.9 x 6.7 mm 30.20 ct.
We have a reliable source, direct by the quarry supply coming in time to time, custom shape and size cutting is available, however due to the nature of the stone, we can not guarantee the color and pattern quality.
Free fast shipping to Canada and USA. For international orders, please check estimated rates here. An alternate cos effective method might be also available with ASENDIA, please contact us with destination info. Not all countries are supported.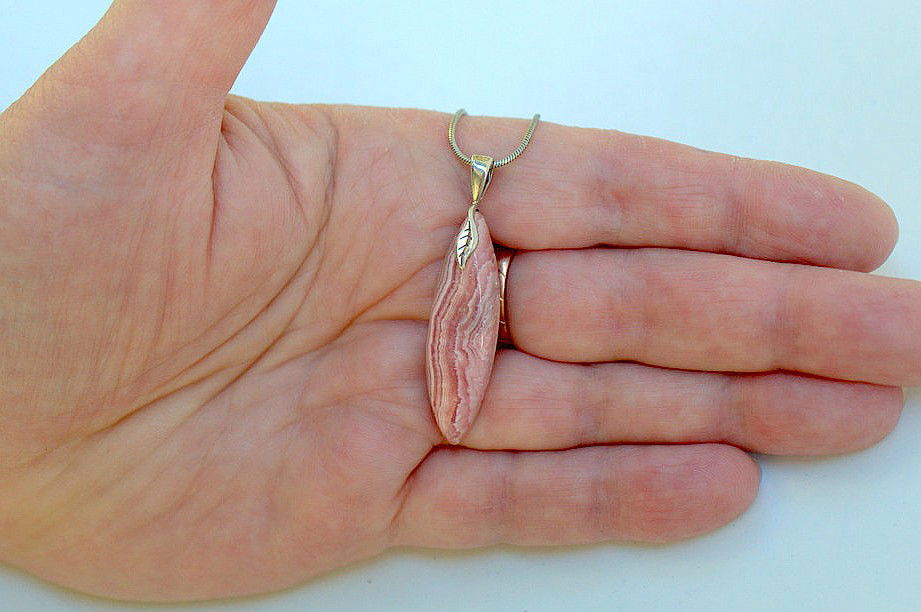 Inca rose necklace Rhodochrosite crystal