Mustard yellow and red intense color gemstone hand cut and hand polished designed free form shape pendant, Mookaite Jasper Australian origin mineral stone jewelry for both sexes.
Jasper jewelry is around for centuries, but gained real popularity only in the last few decades. Occurs all over the world, in many composition, colors and patterns. Usually named by color, the place where it found, and some varieties just fantasy. This specimen got its name by Mooka creek, in Australia, the only place on the world, where found in this formation. Jasper is a composition on silica and mud or clay, what responsible for its color. Favorite material in lapidary, because its harness, and for the awesome bright polish it takes.
The pendant is cut from a raw boulder, the pendant's shape is a fantasy design, following the nicest color and pattern. The setting, sterling silver 21 gauge square and half round jewelry wire wrapping, a modern style method, focuses to show the entire size of the stone, yet holds it firmly and secure in place. A silver plated 20" x 1.5 mm snake chain necklace is included with the pendant. Because the size of the stone, it's recommended for taller person, a longer 24" necklace is available upon request. Please make note at checkout for preferred length.
stone size: 42.5 x 22.9 x 8.4 mm 60.85 ct.
Free shipping to Canada and USA. International shipping available with USPS estimated rates here.
See other pendant cut from the same stone.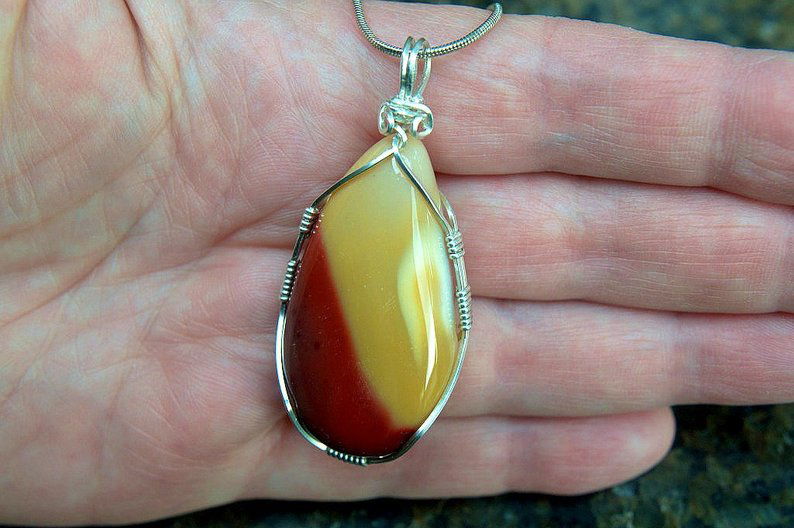 Intense color gemstone, Mookaite Jasper pendant