A nice large size oval shape cut natural Kambaba Jasper gemstone pendant. Original earth mind Madagascan specimen with soft or olive-green color, and black circle or eyes like pattern. The raw stone acquired direct from the supplier, slabbed and selected for best quality in our shop. Polished on lapidary diamond wheels with an eight step process to meet the bright and smoother than glass surface finish. Set with sterling silver 21 gauge square and half round jewelry wire wrapping, a minimalist style method what let the stone shown fully, yet hold it firm in place. It hands on a 20" x 1.5 mm silver plated snake chain necklace.
stone size: 39.1 x 23.8 x 9.1 mm 70.20 ct.
overall pendant height, 54.5 mm
Like all other type of Jasper gemstones, the main metaphysical properties are soothing and relaxing. Because of Kambaba's earthy color and swirly circles, considered as a stone that connects us close to nature. It has a nourishing green energy, that radiates peace and tranquility
It's a very hard and dense crystal, no need to worry to wear it for all occasion, it doesn't scratches easily, and won't break if dropped.
A one time shipping charge added at checkout. To Canada $4.40 USA $6.25 Rest of the world $20.35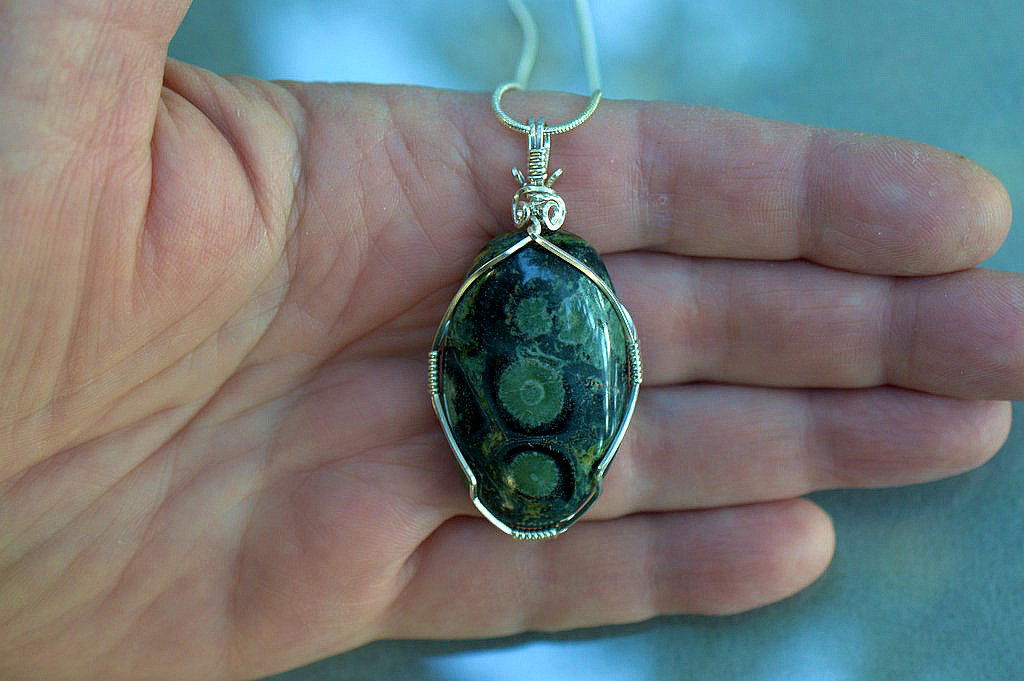 Kambaba Jasper pendant - sagastone.com