Grade A quality African origin crystal, lace agate pendant with stunning color and pattern. The uplifting energy and the soothing elegance take this blue gemstone jewelry to the top of, the make me want it list. Agates history goes back as far as the neolithic age, was used as a protection amulet, healing stone, and even ornaments dating back to Babylon. These days, agates not considered as protection stone, more known for its emotional energy, sometimes called as earth's rainbow. Blue lace agate in the spiritual world considered as the stone of trust and loyalty. You might not believe in stones effect's on our emotions, but experience shows that, people who works as caregivers on any field, are especially attracted to this gemstone.
The stone arrived to us, as a raw specimen (see it here ), cut to slabs, selected for quality and for the nicest pattern, than designed to pendants. Polished on diamond wheels with an eight step process, by always doubling the smoothness of the grit, form 60 to 50.000. The pendant has a glassy finish and a brilliant shine, even water repels on it. Set with a modern trendy style sterling silver 21 gauge round and half round jewelry wire created twist cap, what focuses to show the stone in full, yet holds it firmly and secure through a 1 mm drilled hole. Hangs on a 20" x 1.5 mm silver plated snake chain necklace.
stone size: 47.2 x 16.9 x 6.8 mm 38.50 ct.
Raw blue lace agate still available for custom shape and size cutting, with optional setting. We can drill the stone too, if you prefer to hand it plane.
A one time shipping charge added at checkout. To Canada $4.40 USA $6.25 Rest of the world $20.35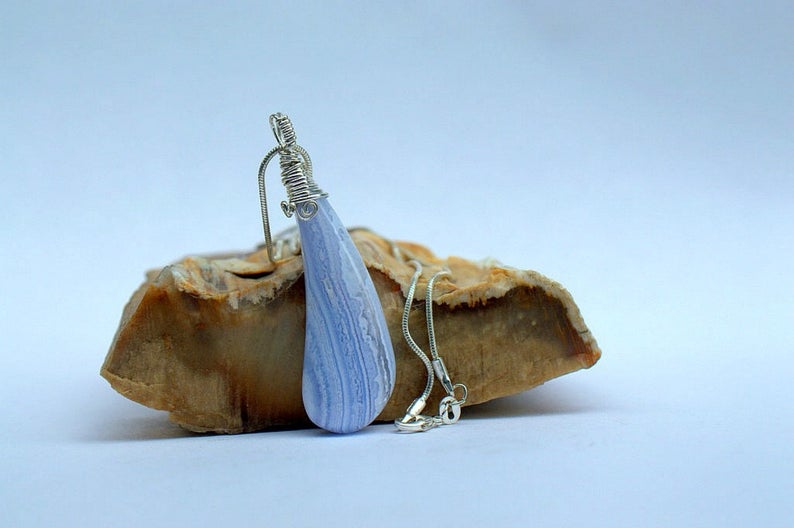 Lace agate pendant, blue gemstone jewelry