This rare find large Jadeite stone found only one place on earth. For a long time it's misinterpreted and collected as Jade. Only in 2008 a deep geological examination concluded that it has nothing to do with it. Mined in Burma, at the foot hills of the Himalaya mountains, as a side product of Jadeite. Because of the high chromium content, the color of the stone is bright green with albite and portion of the hard and dense mineral of Jadeite.
Do not underestimate this gem thou, it so rare, that collectors are hunting it online sometimes for years.
The raw stone came to us, from a local gem show, where we bought a couple of slabs for our collection. We cut a few pendants, what we offer for sale here. This pendant is a cushion shape, makes it suitable to wear for both sexes. Polished on diamond wheels up to 50.000 grit shine and smoothness. Set with sterling silver triple lined round and half round jewelry wire wrapping, and with a 20" x 1.05 mm also sterling silver Italian made smooth snake chain necklace. Longer 24" or shorter 18" necklace also available. Please make a note at checkout for the preferred length.
stone size: 32.2 x 31.8 x 5.1 mm 60.35 ct.
Unfortunately we can't offer custom cutting of this gemstone, stock is out, this is the last piece.
We have a large collection of jewelry quality crystals and minerals ready for cutting, if you're looking for a specific gemstone, please don't hesitate to contact us, we might have your stone.
A one time shipping charge added at checkout. To Canada $4.40 USA $6.25 Rest of the world $20.35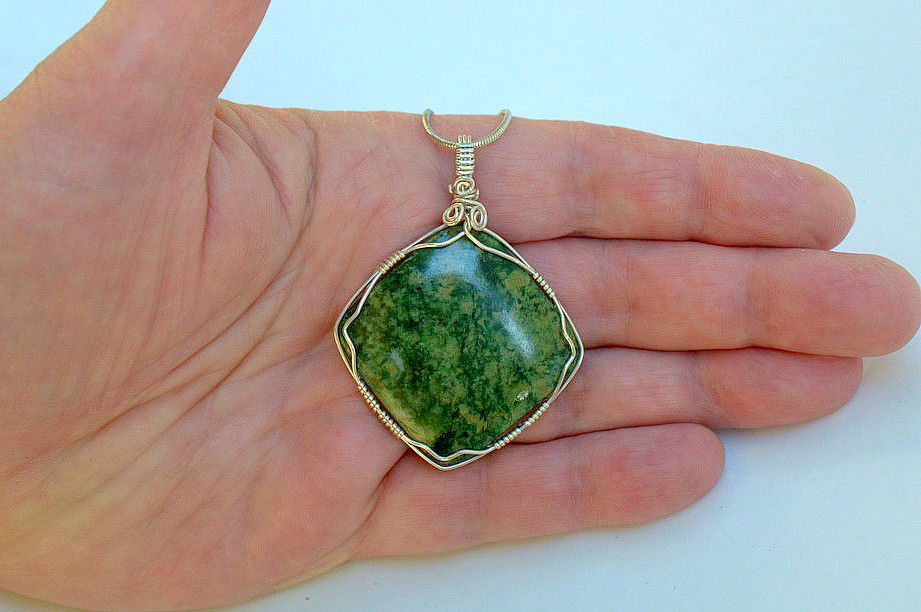 Large Jadeite stone, Maw sit sit pendant