This incredible lilac stone was discover and recognized as a unique crystal less than 80 years ago, and already on the verge of depleting. Its color varies, could be purple, violet or lavender, and with the wonderful swirly pattern makes it a very desirable jewelry element. The stone find only one place on earth, in Siberia Russia. Probably because it's a quite a new discovery, the metaphysical world named it as the stone of this age. It said by wearing it, raises ones confidence to never felt height before. Known as the crystal for rebuilding, no matter what loss or defeat happened in the past, this stone will help to start over and over again from ground zero. The best stone for talisman to put always yourself first. Use it as a healing stone, known to regulate blood presser, soothing to the nerves, and helps to overcome insomnia. Also known as a good help for sleeping problems.
The raw stone acquired direct from the quarry, cut to shape by designing the nicest pattern to show. Polished with an eight step method on diamond wheels up to 50.000 grit smoothness and shine. The stone polished on both sides with domed face and flat back. Drilled, and set with sterling silver 21 gauge round jewelry wire created twist cap hanger. The setting is a very safe, stylish and simple method, focuses to show the stone as much as possible.
By purchasing of the pendant, a .925 sterling silver Italian made smooth snake chain necklace in 1.05 mm thickness is included. Available in three length, 18", 20", 24", please make a note at checkout for the preferred length.
This's a very beautiful one of a kind genuine Charoite pendant, we don't treat die or alter our stones in any ways, 100% natural.
stone size: 45.7 x 9.6 x 5.1 mm 18.90 ct.
overall pendant height; 54.9 mm
Free shipping to Canada and USA. We can include a card upon request if purchased for a present for free of charge. For international estimated shipping charges,click here. A cost-effective alternate shipping method by ASENDIA might be also available, please contact for destination.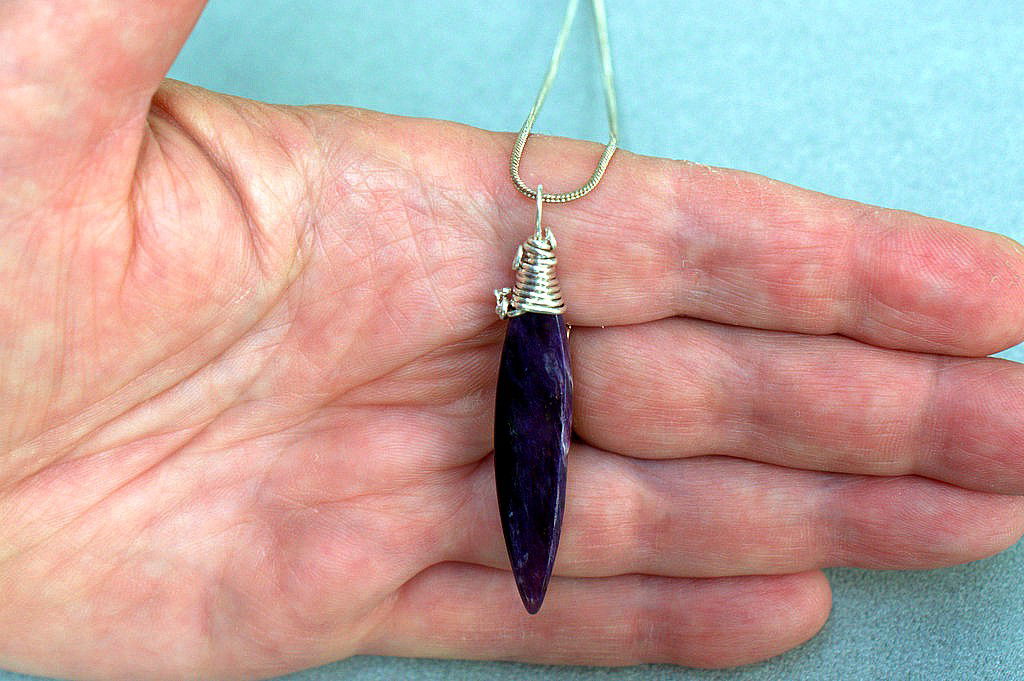 Lilac stone silver set Charoite pendant