Mahogany Obsidian long pear shape pendant with sterling silver 21 gauge square and half round wire wrapping and with a silver plated 20" x 1.5 mm snake chain necklace.

stone size 20 x 40 mm 43.20 ct.
If you question what the mahogany obsidian meaning is, you have to start by knowing the true forms of this stone. Physically, it is natural glass obsidian with colored stripes that are created from iron inclusions. Obsidian properties believed to have gentle energy that is helpful for grounding. It's also considered as working stone since it can bring out the encouragement and remove negative nature that eventually help you to be more focused to yourself and the future.
A one time shipping charge added at checkout. To Canada $4.40 USA $6.25 Rest of the world $20.35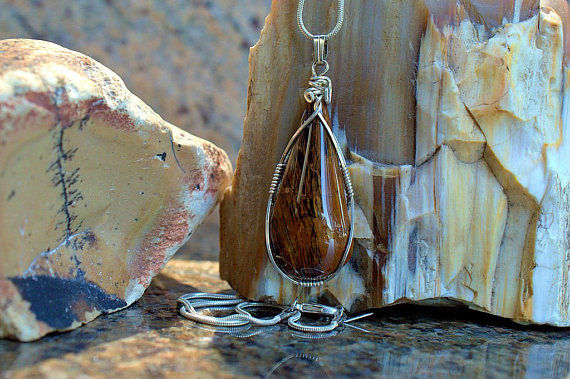 Mahogany Obsidian black brown pattern gemstone pendant