Large free form shape transparent Moss Agate pendant with sterling silver 21 gauge square and half round wire wrapping. A silver plated 20" x 1.5 mm silver plated snake chain included with this silver set gemstone necklace. The gemstone shaped and cut to a designed form, to show the nicest pattern of the inside. Polished to a brilliant and smooth finish on lapidary diamond wheels, up to 50.000 grit. It's a one of a kind moss Agate specimen, looks like life frozen in it in an instant, has a wonderful three dimensional effect, the weed or moss inside still looks alive. Green and autumn color little yellowish plants. As a spiritual or healing stone, often used against depression.
stone size: 39.4 x 23.2 x 10.1 mm 68.70 ct.
Free shipping to Canada and USA.
For international order, see estimated USPS rates here. A cost effective alternate shipping method might also be available with ASENDIA, please contact with destination info, not all countries supported.
We have a large collection of jewelry quality crystals and minerals ready for lapidary cutting, we can cut custom shape and size of gemstone pendant in a few days time. If you look for a specific gemstone, don't hesitate to contact us, we might have your stone.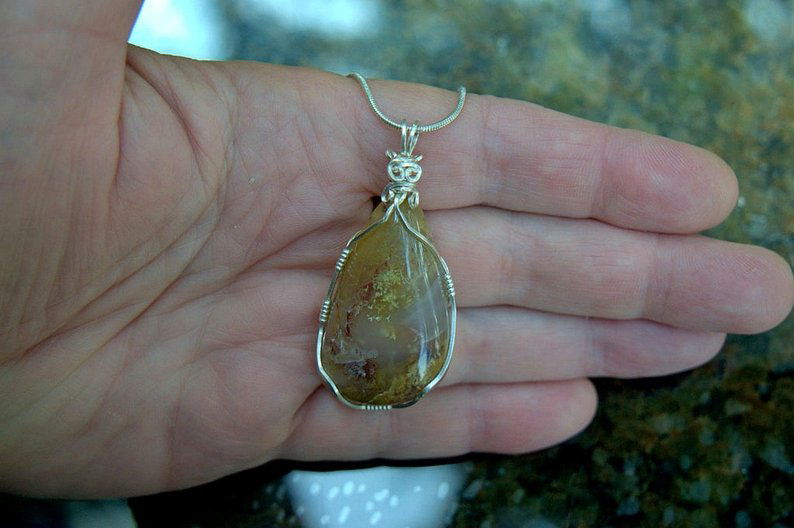 Moss Agate pendant, silver set gemstone necklace