This pastel color mustard yellow gemstone with a touch of burgundy in it, is a product of our mother nature downunder in Australia. Just like many jasper, named by the place where found, this one is one of that. Mooka creek is a place in western Australia, the only place where this beauty comes from. The area is know for its spring, ones covered by sea. The composition of this stone too, related to the remains of the sea life. Sediment of the microscopic skeletons of radiolaria mixed with silicon, hardened and compounded when the sea receded over millions of years.
Shades of yellow with the variations of red to brown, makes this stone an interesting and desirable jewelry material, not to mention the hardness, what allows a brilliant shine. It's a fantasy designed shape Mookaite jasper pendant, hand polished on lapidary diamond wheels up to 50.000 grit smoothness. Drilled and set with sterling silver 21 gauge jewelry wire created twist cap hanger. The wire hooked through the drilled hole, it's a very safe method, the stone won't ever comes loose, hangs on a silver plated 20" x 1.5 mm snake chain necklace.
stone size: 39.7 x 14.4 x 7.5 mm 29.65 ct.
One of our favorite jasper stone, we always acquire backup supply. Custom size and shape cutting available, however no two pendants look-alike of this stone, the pattern and color varies.
A one time shipping charge added at checkout. To Canada $4.40 USA $6.25 Rest of the world $20.35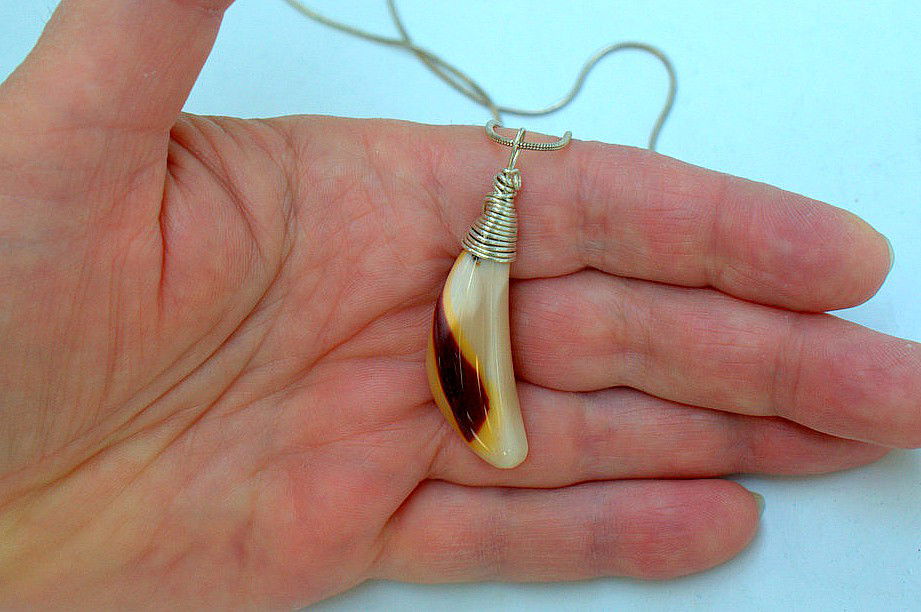 Mustard yellow gemstone, Mookaite jasper pendant