This gemstone known as Mystic Merlinite, what sought after by shamans, healers and fortune tellers. the name Indigo Gabbro comes by the base color of the stone's deep purple shade. Also known as the psychic stone. The mineral's origin Madagascar, one of two places where it can be find. A similar chemically identical specimen exist in Alaska, with more of a grayish than purple color. It's a nice large size hand polished oval shape pendant, with unique pattern and mystical look. Polished on diamond wheels up to 50.000 grit, has a great shine and a soft silky touch. Set with sterling silver 21 gauge square and half round jewelry wire wrapping and comes with a silver plated 20" x 1.5 mm snake chain necklace. A limited quantity of raw stone still available for custom shape and size cutting by request.
stone size: 39.3 x 22.5 x 6.2 mm 53.70 ct.
Free shipping to US and Canada. For International order, please contact for rates and options.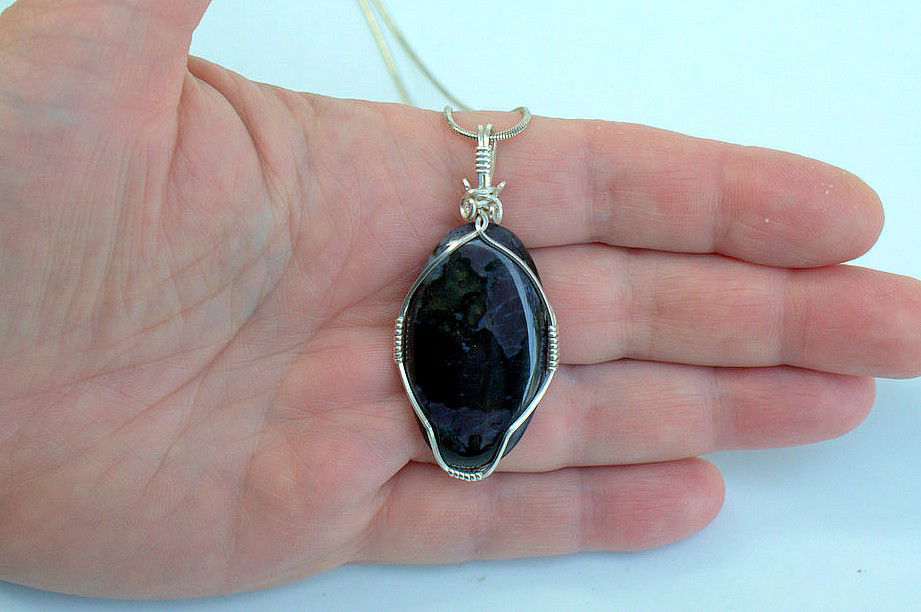 Mystic Merlinite, the psychic stone, pendant necklace