Chrysocolla is an abundant mineral, found all over the world. This is our favorite stone we collect specimen from many places like Russia, the Yukon USA,Mexico. The most stunning and intense color however found in the Andes mountain range specifically in Peru. We are in direct contact with to Peruvian quarries, to acquire raw jewelry quality stones, what's arriving every other months. A deeper blue variety comes from the well-known highlands, famous of the mystic, theory says, aliens created lines Nazca, and the light, or sky blue like this one, from the Cusco region, also a historical place, where the ancient Inca empire built Machu Picchu.
The Cusco origin stone has this stunning light blue color, sometimes with green Malachite traces, an unusually hard variety because of quartz inclusion, whatshows white in it. It takes a very nice bright polish and makes a desirable jewelry piece. This pendant designed to an oval shape, the setting made with a modern style sterling silver 21 gauge triple lined round and half round wire wrapping, and with a 1.05 mm thick Italian made smooth snake chain necklace, what comes in four lengths, 16", 18", 20" 24".
stone size: 36.5 x 20.3 x 8.5 mm 55.60 ct. the pendant's overall size, 62.9 mm including the chainring. total weight 13.6 gram.
We sell Chrysocolla pendants in many platforms, a constant supply arrives every other months. Custom shape and size cutting available.
Sorry we don't sell the raw stone, we use it all what we get.
Free shipping to Canada and USA. International shipping available with estimated USPS rates.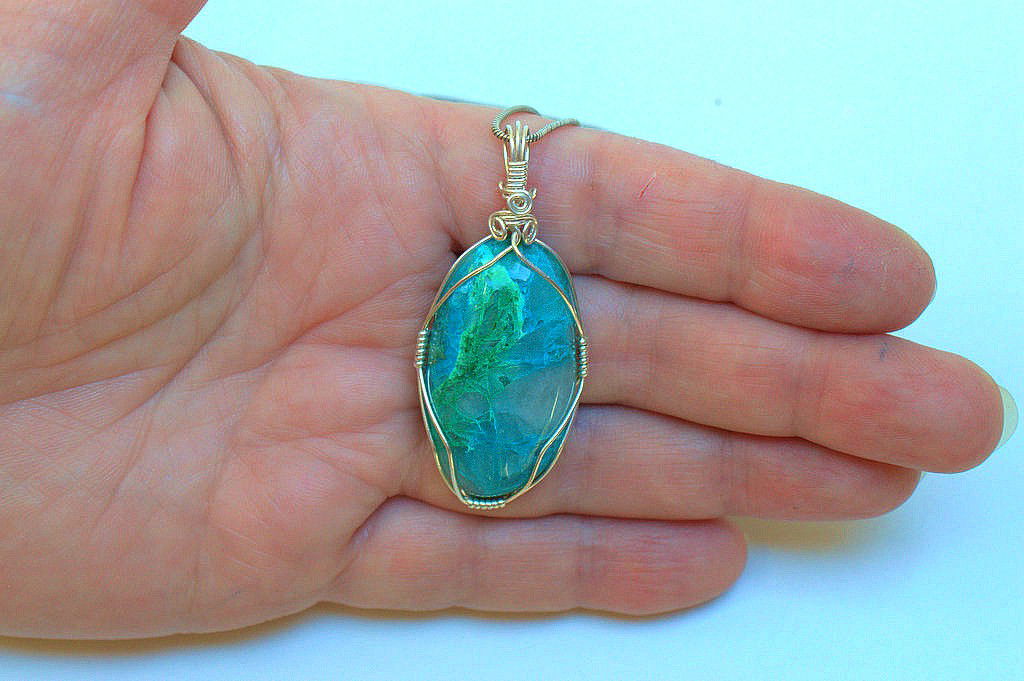 Natural blue stone pendant, Peruvian Chrysocolla