Unique and rare natural crystal jewelry, Arizona origin blue greenish Gem Silica necklace pendant. Also known by the name as Chalcedony Chrysocolla, or Silica Chrysocolla. Gem Silica is basically an agate stone what tinted by the presence of copper salt, or the other way around, when silica filled the copper mineral deposits. It's a hard stone 7 on the scale of 1 to 10, what means, takes a brilliant polish. This specimen doesn't qualify as the top grade, more of a so called mine run with visible Cuprite host rock inclusion. The pendant cut from the original untreated rock, see it here. designed to free form shape, polished both sides on diamond wheels with domed face and flat back.
Set with sterling silver 21 gauge square and half round jewelry wire wrapping, a simple modern style method, focuses to show the stone's entire size, yet tightly holds it firm and secure.
The necklace is also sterling silver, Italian made smooth 1.05 mm thick snake chain, in four optional 16", 18", 20", 24" lengths.
Our small family operated stone shop using only 100% natural stones, we do not treat, dye or alter our gems in anyways. No chemicals or harmful materials used during the process of creating this necklace jewelry.
stone size: 39.1 x 23.7 x 7.2 mm 56.85 ct.
overall pendant size including chain ring, 51.9 mm
total weight, chain not included, 13.42 gram.
Free shipping to Canada and USA. International shipping available with estimated USPS rates, please contact with destination for quote.
We have a large collection of jewelry qualify raw crystal and mineral collection, ready to cut to pendants. If you look for a special stone for your next
jewelry, contact us, we might have your stone.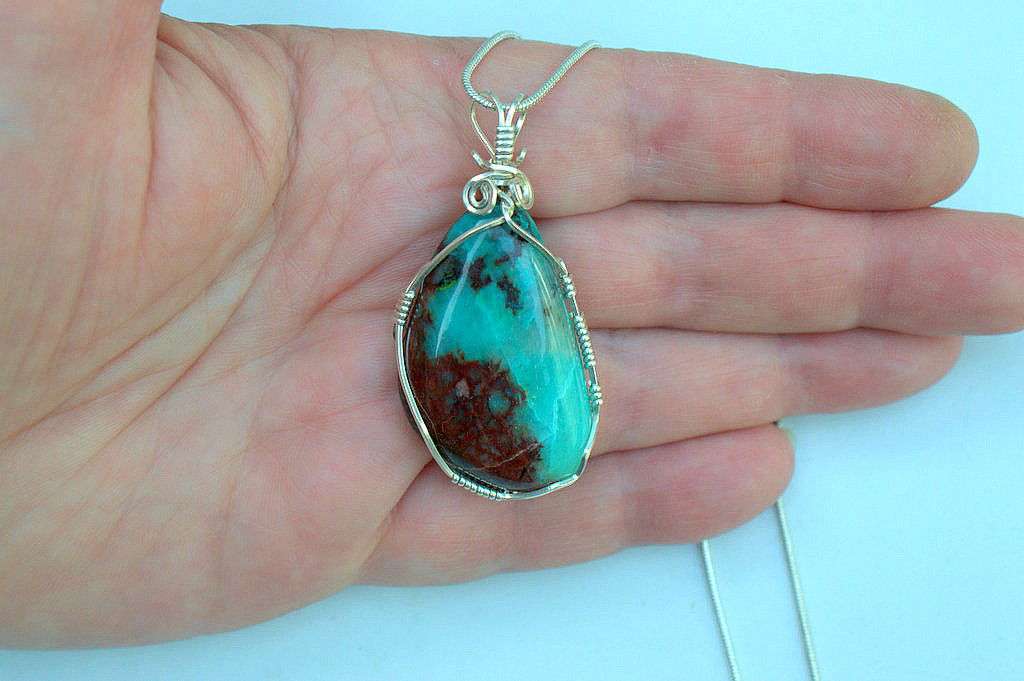 Natural crystal jewelry, blue stone gem silica pendant