Our natural gemstone jewelry made of raw specimen, what we prospect our self, or acquire from other fellow rock collectors. This vivid color mineral comes direct from Arizona see it here. One of the rarest stone what composed of Chalcedony and the greenish blue comes by the presence of copper salt. Known by the name as Gem Silica, or Agate Chrysocolla. The translucent stone's color become more intense with light behind it, (obviously can't wear it with light) still will attract many eyes without it too. This specimen is not the top grade, it means some inclusion of the host brownish red Cuprite is left in the pendant.
We only cut cobochons, in larger sizes, smaller pieces could have been made of the stone to faceting, for ring and earring ornaments. The pendant's shape designed by showing the nicest color, and the pattern how it found naturally. Has a brilliant shine, polished on diamond wheels up to 50.000 grit glass like smoothness. The setting is sterling silver 21 gauge triple lined round and half round jewelry wire wrapping, a stylish modern method,shows the stone entire size, yet holds it firm and secure in place.
The pendant comes with four optional length of Italian made smooth 1.05 mm thickness snake chain necklace, in 16:, 18", 20", 24" long.
stone size: 43.5 x 20.4 x 8.6 mm 55.20 ct.
overall pendant size, including chain ring, 58.9 mm
total weight with the silver wire setting, necklace not included 13.9 gram.
We do not treat, dye or color or stones, only 100% natural minerals being used. No chemicals or harmful materials used during the process of creating it.
Free shipping to Canada and USA. International shipping available with estimated USPS rates.
We have a variety of jewelry quality crystal and mineral collection, ready to cut to jewelry. If you look for a specific gemstone, contact us, we might have your stone.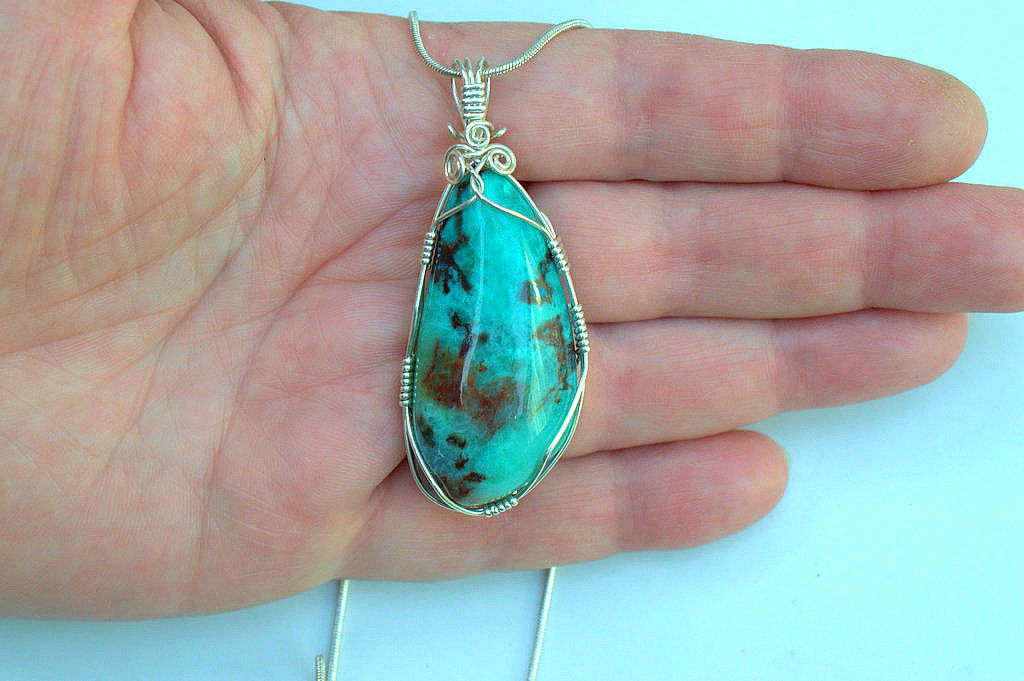 Natural gemstone jewelry, gem silica pendant necklace