This large oval shape natural gemstone necklace, includes a rare and special stone specimen. Gem Silica is a crystal what found only on a few places on earth, a highly collectible stone for jewelry makers and collectors equally. The greenish blue color explains, why it's a desirable jewelry, and the chemical composition for why it's so unique. It also called Chalcedony Chrysocolla, basically like agate tinted by the copper mineral. The specimen is not clear, the visible red brown inclusion caused by the host rock Cuprite. The hardness of the stone is 7 on the Mosh scale, what means it takes a brilliant polish.
Hand cut, designed to show the nicest color and pattern, polished on diamond wheels up to 50.000 grit glass like shine and smoothness. It's translucent, and shows a stunning intense color when light held behind. See the raw stone here, what this pendant cut of.
Set with sterling silver square and half round 21 gauge jewelry wire wrapping, a self designed secure method, focuses to show the stone's entire size, yet
holds it firm in place. The sterling silver Italian made smooth 1.05 mm thick snake chain necklace comes in four different lengths to choose from. 16", 18", 20", 24" available, please make note at checkout for preferred length.
stone size: 39.8 x 23.8 x 8.8 mm 71.95 ct.
overall pendant size including chain ring 55.3 mm
total weight without necklace, 17.73 gram.
Free shipping to Canada and USA. International shipping available with USPS estimated rates, contact with destination for best quote.
Our large collection of raw natural minerals,crystals available for custom shape and size cutting, if you look for a specific gemstone for your next
jewelry piece, don't hesitate to contact us, we might have your stone.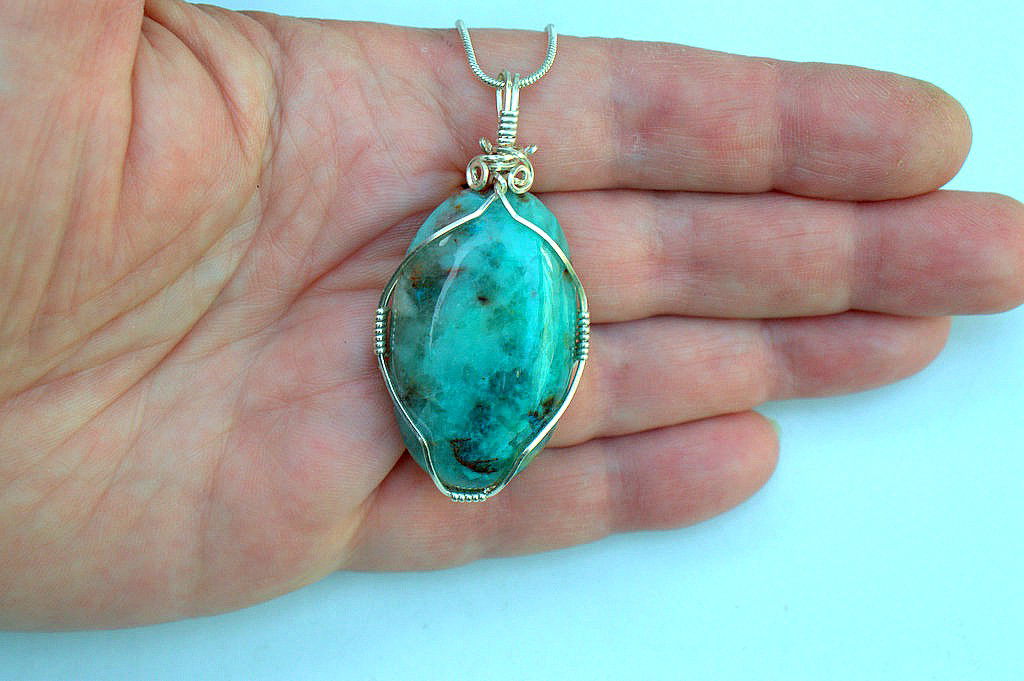 Natural gemstone necklace, Arizona gem silica