Translucent milky natural green crystal, Brazilian origin Aquamarine. The raw stone direct from the quarry. Hand polished oval shape cut pendant, with sterling silver 21 gauge square and half round jewelry wire wrap setting, and with a silver plated 20" x 1.5 mm snake chain necklace.
stone size: 33.2 x 24.1 x 9.4 mm 59.75 ct.
overall pendant height: 47.7 mm
When you think of Aquamarine, obviously it reminds you the sea and its color. However most of these natural earth mined Beryl crystals comes to the surface as a green rock. When clear and opac specimen found, usually goes through heat treatment to achieve a water like blue color. Our shop don't do that, we use only 100% natural stones, cutting and polishing with traditional lapidary method. We believe that, there are many people out there, who uses gems for its metaphysical and spiritual properties, and any alteration of the crystals might void its use.
Aquamarine known as a powerful cleansing crystal for the emotional body. It helps to clear former emotional hurts, abuses, and balances anger and fear what felt for long about it. Also a good stone for learning to enhance intellect.
Different sizes and shapes cut from the same stone also available in the gemstone pendant section. A limited quantity of raw Aquamarine still also available for custom cutting.
Free shipping to Canada and USA. International shipping by USPS, a $9.25 CDN charge added at checkout.
Tracking code provided by email, within 1-2 business days, when payment approved.
We have a large collection of raw jewelry quality semi-precious stones,crystals, if you look for a specific mineral, don't hesitate to contact us, we might have your stone.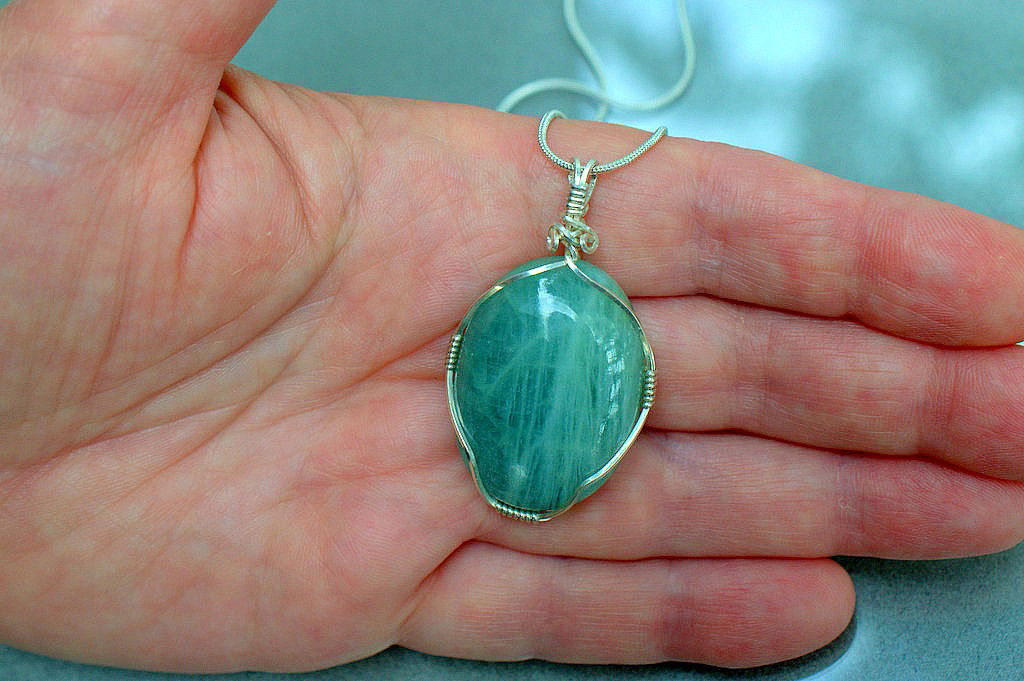 Natural green crystal, silver wrapped Aquamarine pendant