An eye catching natural pink mineral, prospected in upper Washington state near the Canadian border. The name and the origin of the stone Thulite derive from Norway where first identified as a unique mineral, and given the name after the small island Thule. It's a pink variety of Zoisite composed mainly in Calcium rich deposits and the color depend on the manganese content. A relatively hard and dense stone, no need to worry to scratch the Thulite pendant. Some deposits find in the USA, in north Carolina and like this specimen near Riverside Washington state.
Thulite pendant is considered as a love rock, it helps to build and trust self esteem and to love oneself. It's a good crystal to see our-self how others see us. Eliminates the negative energies, from other's critical eyes. In one word, it's a stone to love and appreciate our-self.
This pendant is cut from a raw rock, slabbed and selected for quality and the pattern. See the slab here, what we used to cut this pendant. Designed to a medium size oval shape leaving a touch of green in it. Polished on diamond wheels up to 50.000 grit smoothness and a bright shine. The stone hardness allows to bring out and outstanding surface finish. Set with sterling silver 21 gauge square and half round jewelry wire wrapping, a modern and trendy method, what focuses more to the stone than the setting. A 20" x 1.5 mm silver plated snake chain necklace is included in the sale price of this pendant.
stone size: 40.2 x 24.3 x 6.8 mm 67.65 ct.
We are relatively close to the prospecting site, also have some surplus in stock. If you prefer a custom size and shape pendant out of this stone, please contact us, we can cut it within days, with optional setting.
A one time shipping charge added at checkout. To Canada $4.40 USA $6.25 Rest of the world $20.35
We collect jewelry quality crystals and minerals from all over the world, if you looking for a specific stone, don't hesitate to contact us, we might have your stone.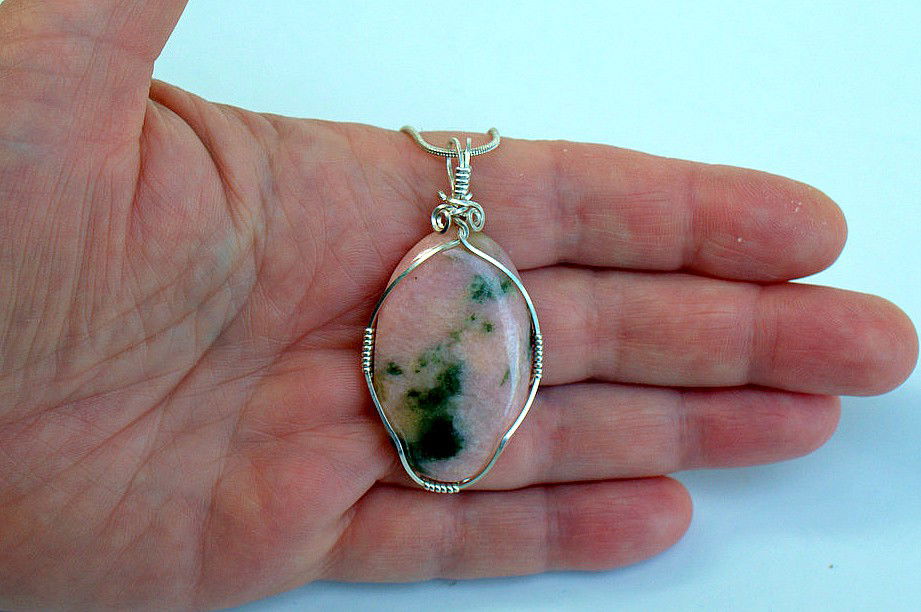 Natural pink mineral, Thulite pendant