Known as the best negative energy blocker protection stone. By wearing a black Tourmaline necklace, will redirect all negativity what comes to your way, by creating an aura around you. There are people who has deep believes in stones metaphysical properties, and many people reject the idea, that they do anything. As a stone cutter, I look at theme as natures beauties, and dedicated myself to show as many specimen as I just can, how they look with a little human touch. I have some special connection with a few minerals, but I can't say they had any effect in my life by touching or wearing theme. However I have a deep respect for people who does. I believe thou, that if nothing else, the placebo effect exist, and even if one doesn't believes, it still in the back of the mind, what can makes a person feel better.
This specimen is a Black Tourmaline or Schorl named by the place in Germany where used to mined huge quantities. I've cut this oval shape pendant from a raw boulder. This stone has lot's of cracks and holes in the inside, and very hard to grind it down to achieve a consistent surface. This specific pendant was cut from a 5 times larger piece, as it is now. Polished on diamond wheels with a nine step method by using smoother and smoother grids, up to 50.000 what finally makes it like glass. The setting is sterling silver 21 gauge triple lined round and half round simple yet stylish jewelry wire wrapping, what focuses more to show the stone than the setting. The pendant comes with an also sterling silver 1.05 mm thickness Italian made smooth snake chain necklace, with a optional 18", 20", 24" length to choose from. This is a well sought after gemstone for talisman, and a rare find polished out like this.
stone size: 36.7 x 20.7 x 7.4 mm 56.85 ct.
Free shipping to Canada and USA. International shipping available with USPS rates.
Check out other shape and size pendants cut from the same stone.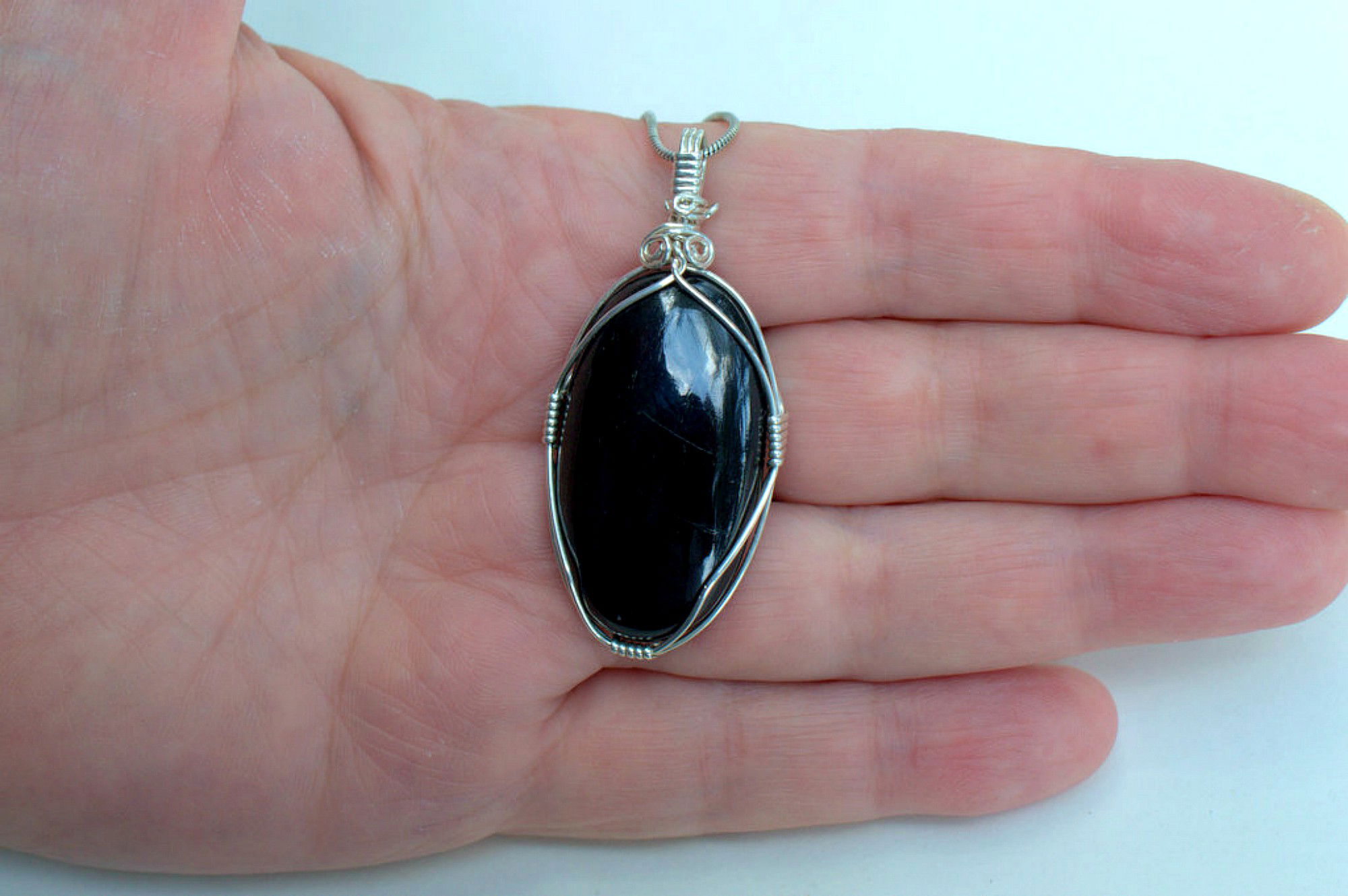 Negative energy blocker Black Tourmaline pendant necklace