Our Dallasite jewelry assortment, set and polished by us, and always available in our online shop. We collect this wonderful specimen ourself, out on Vancouver island. Being blessed with the abundance of local minerals in our surrounding area, we take the ferry ride only for collecting Dallasite. Besides of Jade and Rhodonite, Dallasite named the third unofficial stone of British Columbia. One might wonder, what makes this stone so famous?, well.. once you see it, you'll understand it. As a raw specimen, might be just a simple black rock, but when you cut it, and reveals the black and white abstract like pattern, you see a desirable jewelry material.
This pendant designed to a teardrop shape by after the pattern, polished on lapidary diamond wheels up to 50.000 grit smoothness and brilliant shine. Set with sterling silver 21 gauge square and half round wire wrapping, a modern style method, shows the entire size of the stone, with a silver plated 20" x 1.5 mm snake chain necklace.
stone size: 38.9 x 21.9 x 7.8 mm 56.30 ct
overall pendant height: 54.1 mm
Custom shape and size cutting available.
A one time shipping charge added at checkout. To Canada $4.40 USA $6.25 Rest of the world $20.35
Fast US bond shipping by USPS via chit-chat express, daily. No custom delays or tariffs involved, most cases 4-5 business days delivery time. Tracking provided by email within 24 hours of confirmed payment.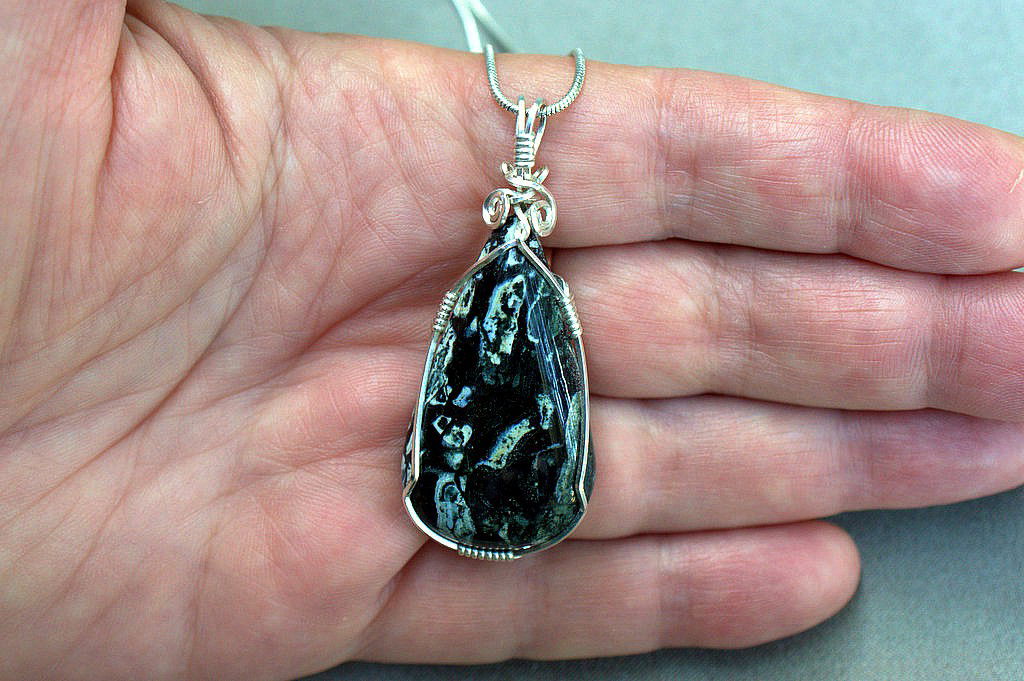 Official British Columbia gemstone, Dallasite jewelry