Why Petrified wood considered as one of the best healing and metaphysical stone? Well... it might be because once it was a living, breathing tree, with the ancient wisdom buried in it, and when comes alive again, cures everything. It said, by wearing or holding Petrified wood necklace, natural earth energies calming, relieving worries, and allowing you to feel secure.
If this properties, not in your interest, this dark brown base color natural gemstone still can make a stunning piece of jewelry. This hard and dens stone created by silicon dioxide, or let's call it simply quartz, replaced all organic parts of the tree, and over millions of years compounded by earth's heat and pressure fossilized it.
To polish this gem for jewelry, it's a real joy. Every step of the process bring it closer to live, and deepens the dimensional effect of the pattern. The pendant polished all-around, nice large oval shape, with domed face and flat back, set with sterling silver 21 gauge square and half round jewelry wire wrapping and with a silver plated 20" x 1.5 mm snake chain necklace. The simple looking setting method allows to show the entire size of the stone, yet hold it firm and secure in place. If you have allergies for base metals, a black 2 mm thick leather necklace also available.
stone size: 40.6 x 26.5 x 7.3 mm 67.95 ct.
overall pendant height: 56.4 mm
We have a large collection of raw petrified wood for custom size and shape cutting. Pictures taken with another piece of locally fund specimen in background.
Free shipping to Canada and USA.
Fast US bond shipping by USPS via chit-chat express, daily. No custom delays or tariffs involved, most cases 4-5 business days delivery time.Tracking provided by email within 24 hours of confirmed payment.
International shipping also by USPS, or by ASENDIA if destination available, a one time charge of $9.25 (CAD) added at checkout.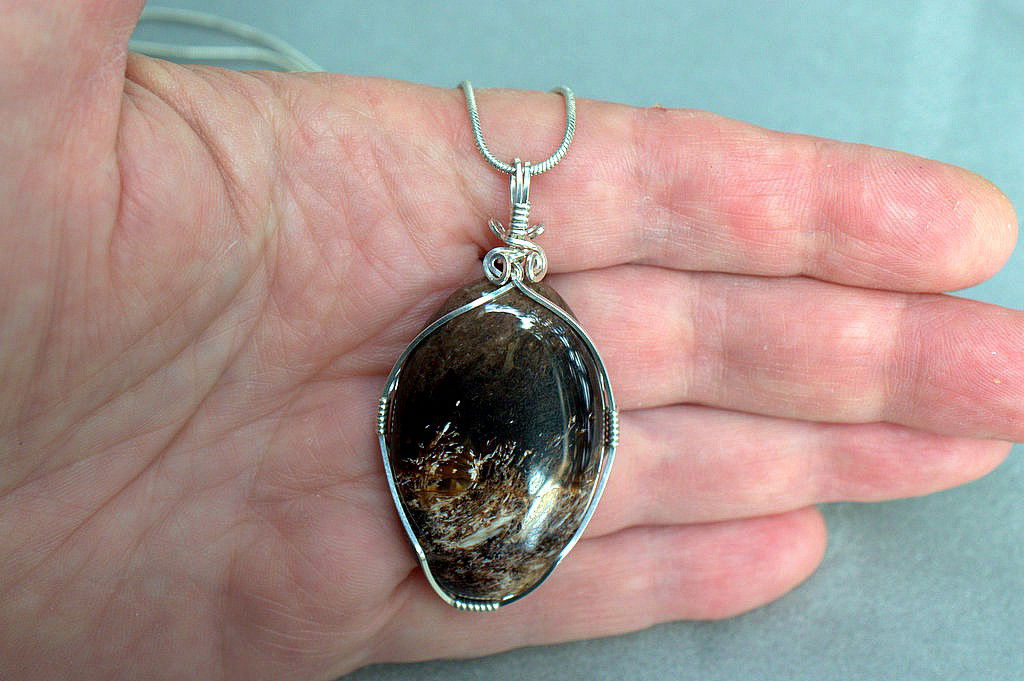 Petrified wood necklace, brown natural stone silver set pendant