Canadian pink natural gemstone variations of bright to pale colors in this untreated Rhodonite pendant. Prospected close to the arctic circle in northern British Columbia. It's a rare mineral in this composition, hard and dense, often find side by side with polar jade. It'a a hand cut designed shape pendant, polished on diamond wheels up to 50.000 grit to a bright glassy finish. The setting is a stylish but simple sterling silver 21 gauge square and half round jewelry wire, comes with a silver plated 20" x 1.5 mm snake chain necklace.
Rhodonite is a kind of common mineral in British Columbia, especially on Vancouver island, usually found with black veins, what makes a desirable pattern. This gemstone is from way up north close to the Alaska border. We only had a small piece of this mineral to cut a few pendant.
stone size: 39.2 x 22.6 x 6.8 mm 54.30 ct.
overall pendant size including chain ring: 52.2 mm
total weight without necklace: 12.79 gr.
Free shipping to US and Canada. For International order, please contact for rates and options.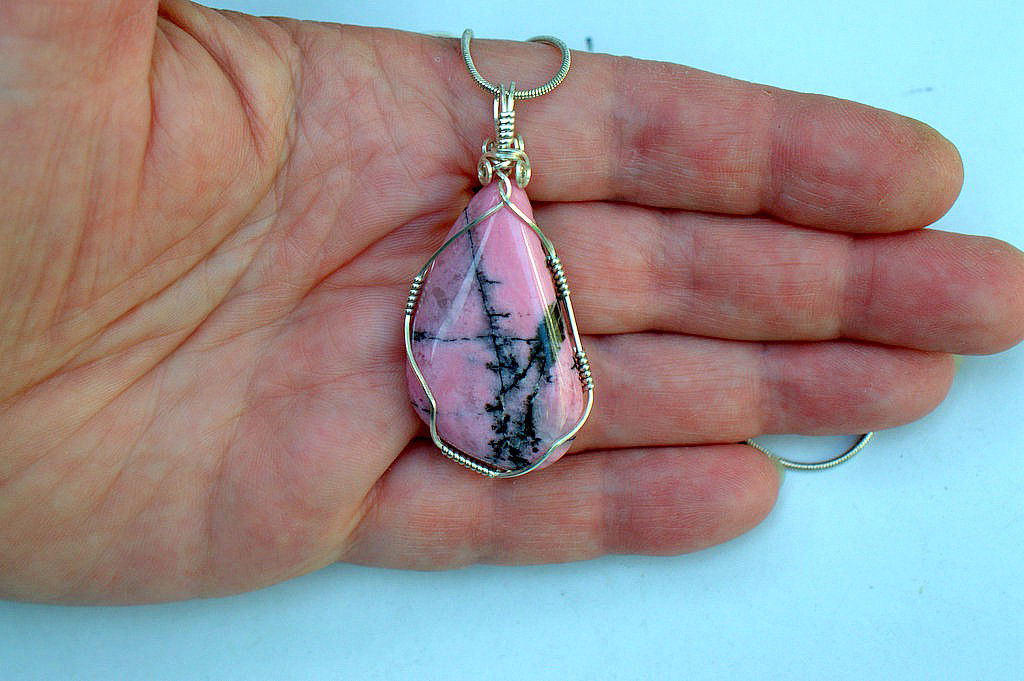 Pink natural gemstone British Columbia Rhodonite