Rose Quartz is called as the crystal of unconditional love, promotes peace and compassion, sweetness and resonate the ultimate female energy.It said it gives you sweet dreams if you sleep with it and protects you from nightmares. It's a local British Columbia specimen,prospected not too far from Whistler village. A very intense pink color hazy but translucent untreated natural stone.Hand polished on lapidary diamond wheels up to 50.000 grit to a bright glassy shine. Set with sterling silver 21 gauge square and half round modern stylish jewelry wire wrapping, and with a silver plated 20" x 1.5 mm snake chain necklace. Raw Rose quartz is always available for custom shape and size cutting. Please don't inquire about the location, where it can be find. It's not jealousy, just simply protecting the surrounding area not to be disturbed.
stone size: 37.6 x 21.1 x 8.2 mm 51.70 ct.
Free shipping to US and Canada. For International order, please contact for rates and options.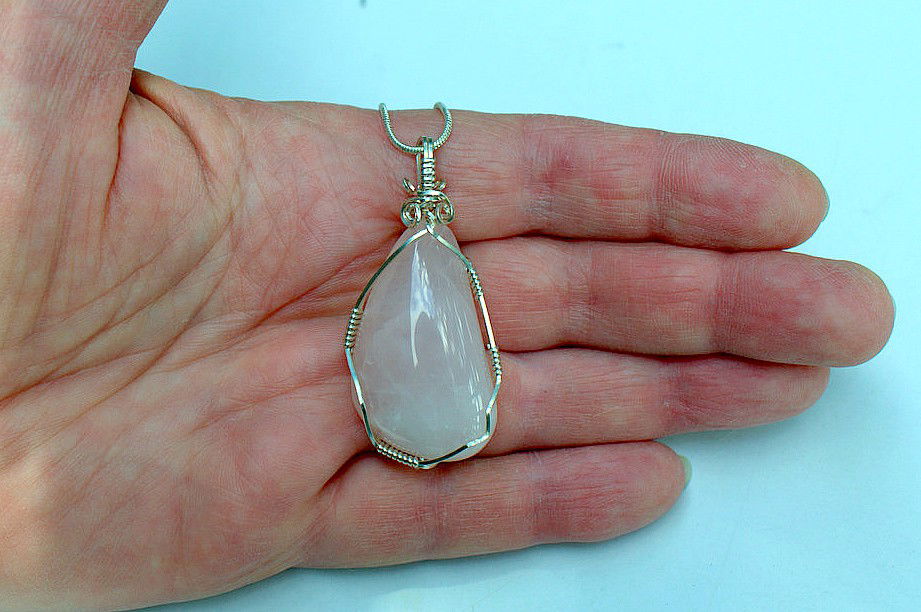 Pink quartz gemstone necklace