Looking for a protection talisman stone? Here is a nice large size high polished black tourmaline pendant, what worn by shamans and magicians to protect them from spells and demons. This stone reserved the right even today as a premier protection. It said, creates a psychic shield around the wearer, dispels and deflects all negativity and destructive forces, by turning it to positive usable energies.
Black Tourmaline also known as Schorl, the name derive from a German town where first was mined back in the 14th century. Black tourmaline found all over the world, usually in terminated crystal form, and sold in raw sate, large mass deposit is rare. It's not an easy task to cut and shape a pendant from this crystal. Usually contain lot's of cracks and air pockets, what comes to the surface at the polishing process. This pendant was cut from a four times larger stone, to finally achieve a smooth even finish. A nice large size heart shape. polished on diamond wheels up to 50.000 grit smoothness and a brilliant shine.
Set with sterling silver 21 gauge round jewelry wire created hanger, what goes through a drilled 1 mm hole, a modern trendy style and safe method, what focuses to show more of the the stone than the setting. The necklace is a silver plated snake chain 1.5 mm thickness, and the length is optional 18", 20", 24". Please make a note at checkout for the preferred length.
stone size: 25.2 x 16.8 x 4.7 mm 18.60 ct.
overall pendant height: 35.4 mm
Unfortunately we can't offer custom size and shape cutting of this crystal, it's a rare stone and hard to find supplies.
Free shipping to Canada and USA.
International shipping also available, at estimated USPS rates, see it here.
We have a large collection of jewelry quality crystals and minerals, ready to cut to pendants. If you looking for a specific gemstone, don't hesitate to contact us, we might have your stone.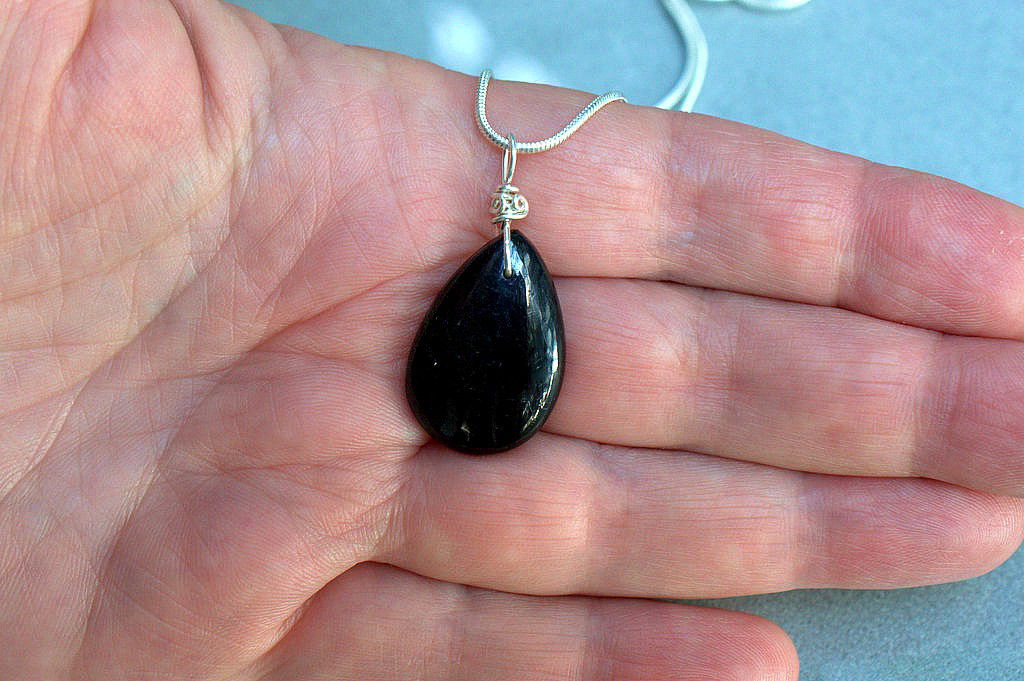 Protection talisman stone, black tourmaline pendant