Best quality, delicate purple crystal necklace, Tiffany stone genuine gemstone, designed shape and large size pendant. Natural untreated Utah mined specimen, hand cut and hand polished beautiful intense color jewelry stone. Designed to show the nicest pattern, set with sterling silver 21 gauge jewelry wire wrapping, a trendy modern style method, not too fancy, yet gives the stone prestige, while holds it firm and secure in place. Tiffany stone is extremely unique and rare, found exclusively at Brush Wellman mine in western Utah, any other Tiffany named stone is either fake or an imitation. Also called as Opal Fluorite, or Bertrandite, what is an incorrect proposition, since Bertrandrite is a separate unique mineral.
Tiffany known as the best stone for emotional healing, it said resisting tensions and blockages, what we didn't know exist. Also known as a gemstone what boost sexual desire.
It's a very beautiful handmade jewelry necklace, makes a great present for the one who really counts.
stone size: 40.2 x 20.1 x 7.6 mm 46.30 ct.
The pendant comes with a sterling silver Italian made smooth snake chain 1.05 mm thickness necklace, with three optional length 18", 20", 24". Please make a not at checkout for preferred length.
Free shipping to Canada and USA. For International options, check estimated USPS rates here, and contact with destination info, ( a cost effective alternate method might be available with ASENDIA, not all countries supported.
We do not treat, color, or dye or gemstones, all of the pendants in our shop is 100% natural, no chemicals or harmful material used during the cutting polishing process, safe to wear.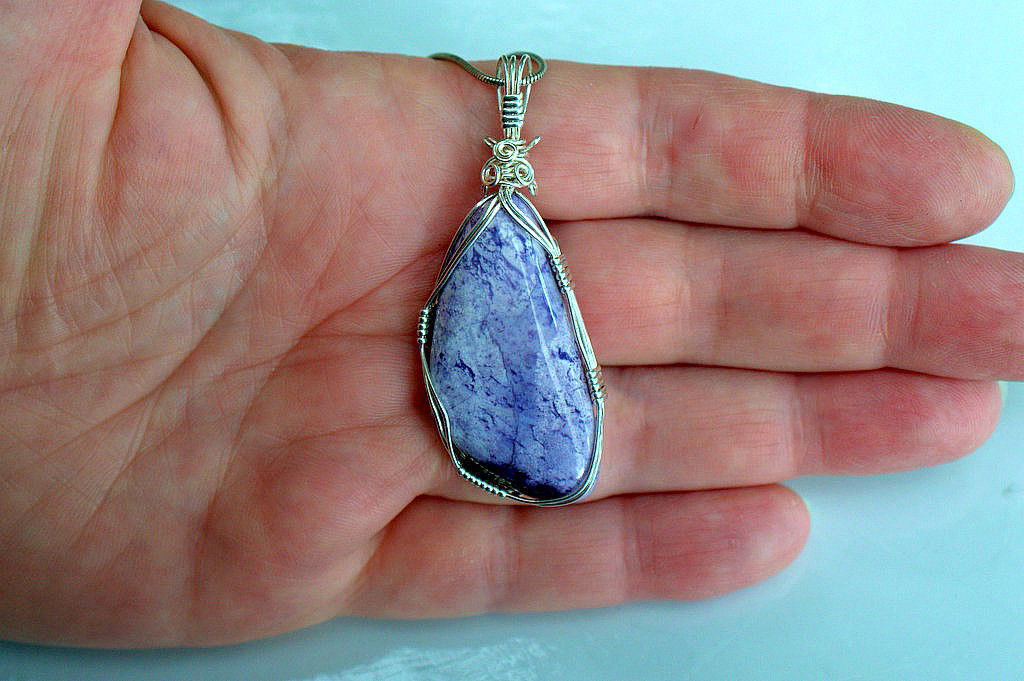 Purple crystal necklace, Tiffany stone silver set pendant