Indigo Gabbro purple mineral necklace has a fascinating array of colors.It goes from light hazy to deep indigo purple, and sometimes pure black. It's a relatively newly mined Madagascar origin mineral, formed by cooled molten lava what trapped beneath the ocean's crust. The raw stone acquired direct from the quarry by pound, cut slabbed in our shop. The pendant is designed to an teardrop shape by following to show the nicest pattern, polished on nine different diamond wheels up to 50.000 grit, to achieve a bright glass like finish. The setting in a modern stylish design made with sterling silver 21 gauge triple lined round and half round wire wrapping, and a 20" x 1.5 mm silver plated snake chain necklace is included with the purchase of the pendant. Indigo Gabbro is often called as Mystic Merlinite. As a metaphysical stone is used to cool off the temper of violence, and helps to locate energy blockage in the body.
stone size; 39.5 x 23.5 x 5.5 mm 47.05 ct.
overall pendant height: 53.3 mm
Raw Indigo Gabbro still available, for custom shape and size cuttings. See other shapes cut from the same stone in gemstone section.
Free fast shipping to USA and Canada.
For International order, please contact before order, or check estimated USPS rate here.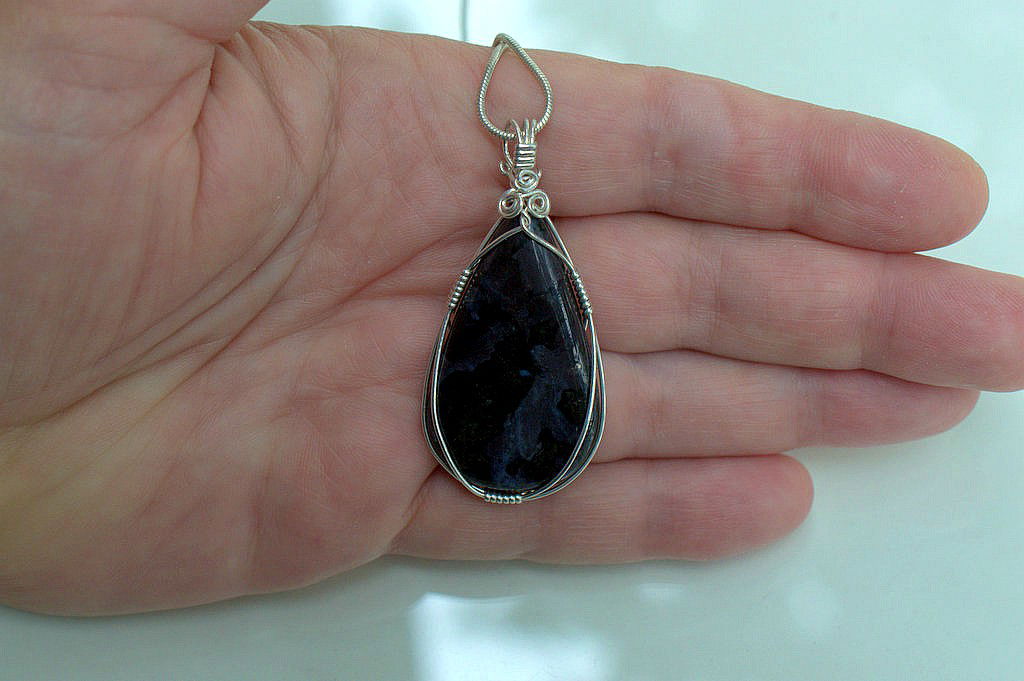 Purple mineral necklace, Indigo Gabbro pendant