Natural strawberry Quartz crystal pendant large size oval shape translucent gemstone necklace. The pendant is set with sterling silver 21 gauge square and half round wire wrapping and a silver plated 20" x 1.5 mm snake chain necklace comes with the pendant.This gemstone is a clear quartz specimen with red lines veins in it. Prospected as a sea sediment on the south Pacific ocean's bed. Arrived to our shop as a raw stone, polished on diamond wheels up to 50.000 grit smoothness and bright shine. The wire wrap setting is simple stylish modern design, focuses more to the stone than the silver. It's a nice large piece of gemstone, makes a unique present for birthday or anniversary.

stone size" 26.5 x 42.5 mm 54.65 ct.

Quartz i is the most recognized type of crystal. In fact, many people envision quartz crystals when they think of crystals, even though there are many different types of crystals. Quartz can be icy clear or have inclusions, veils, bubbles, and various colors. Visual clarity normally isn't important to a quartz's energetic quality and ability to amplify subtle energies
.Free shipping to US and Canada. For International order, please contact for rates and options.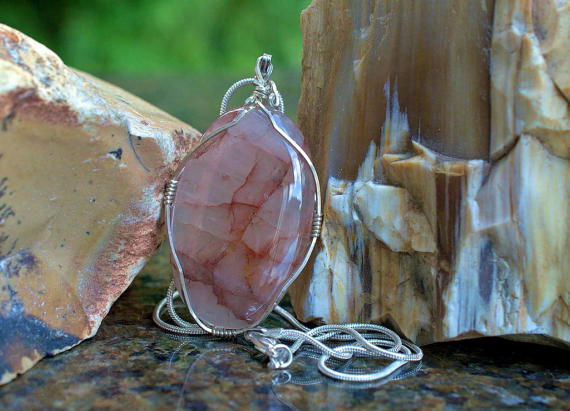 Quartz crystal pendant gemstone necklace