This high domed puffy blood stone pendant, looks like the red dots splattered into the green mineral. Actually, blood stone, officially known as Heliotrop, is a Chalcedony crystal with iron silicate mixed in it, what resembles like blood drops. It's a very popular type of gemstone, worn for centuries as a health preserver and protection talisman, either raw or polished. A very hard and dense mineral 7 on the scale, and takes an awesome polish. Found only a few places on the world, The Indian specimen called the killer fancy, and usually looks more like blood flows,and most of the time contain other color shades such as yellow and beige. This specimen is the Brazilian version, our favorite, with deep green base color and bright red dots.
The pendant is a nice large oval shape stone, hand polished on various grits lapidary diamond wheels to meet a bright shiny finish with 50.000 glass like smoothness. Set with sterling silver 21 gauge square and half round jewelry wire wrapping, a safe and modern style method, shows the entire size of the stone yet holds it firm in place, never gets loose. Hangs on a 20" x 1.5 mm silver plated snake chain necklace.
stone size: 39.4 x 24.3 x 9.9 mm 75.80 ct.
overall pendant height: 56.1 mm
Other pendants cut from the same stone, also available in the gemstone pendants section.
We have a large collection of raw jewelry quality semi-precious stone and crystal collection, ready for custom cutting. If you look for a specific stone, don't hesitate to contact us, we might have your gem.
Free shipping to Canada and USA. International shipping also available, a one time $9.25 CDN charge added at checkout.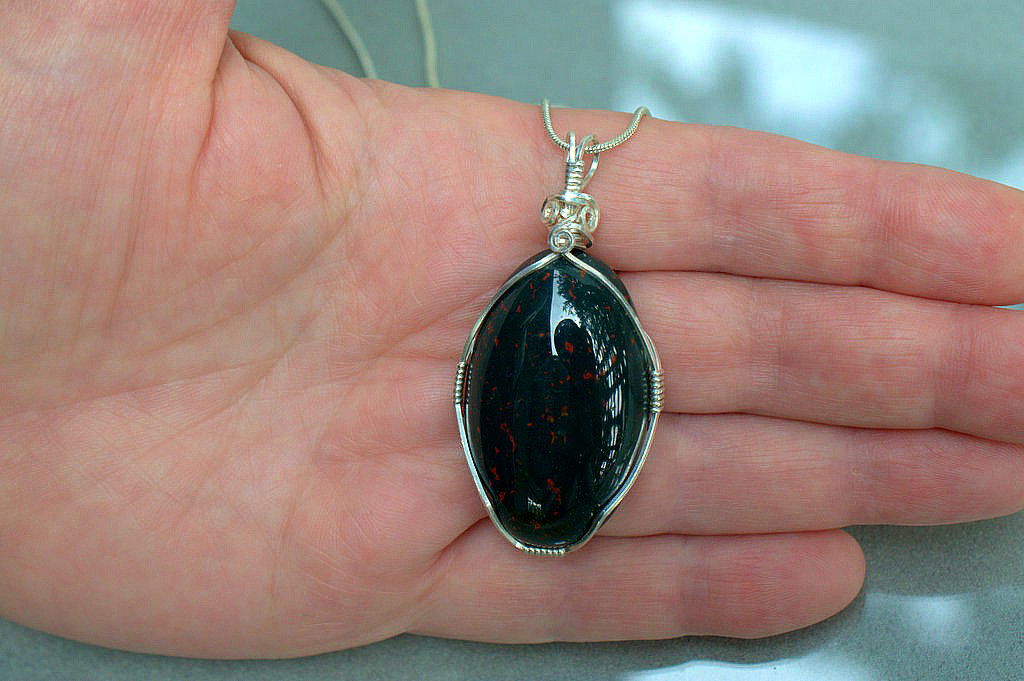 Red dotted green mineral,Blood stone pendant,necklace jewelry