This intense color one of a kind Red jasper pendant cut from a self collected local British Columbia mineral. The bright color itself would already make it a unique piece, but the inclusion of Hematite and quartz dots and spots gives a beauty to the stone. The specimen dug out in the heart of the Canadian rocky mountains, the surrounding implies of a dried out sea or lake sediment, among many other specimen found on the place, this stone is a prime quality, see it here. Cut and designed in our shop, taken in consideration to include the nicest pattern. Polished on lapidary diamond wheels to a brilliant shine, with 50.000 grit glassy finish. The stone is drilled with a 1 mm hole, set with sterling silver 21 gauge round and half round jewelry wire created hanger, a safe and modern style method, focuses to show the entire size of the gemstone, yet holds firm on place. A silver plated 20" x 1.5 mm snake chain necklace included with the pendant. We also carry sterling silver 1.05 mm thickness Italian made necklaces, available in 18", 20", 24" lengths. If you wish to upgrade, contact us for our low whole sale prices.
stone size: 48.6 x 17.1 x 9.4 mm 52.95 ct.
overall pendant height: 58.8 mm
Red Jasper is known as a powerful protection stone, used through history by warriors, by woman to increase fertility, and it said saves the wounded to bleeding out. The modern world translates it as an emotional protector against unjust, and guards people away who might take advantage of ones verity. For any reason you looking for red Jasper jewelry, this specimen is truly one of a kind stone. Raw backup still available for custom size and shape cutting.
Free shipping to Canada and USA. International shipping available at USPS estimated rates.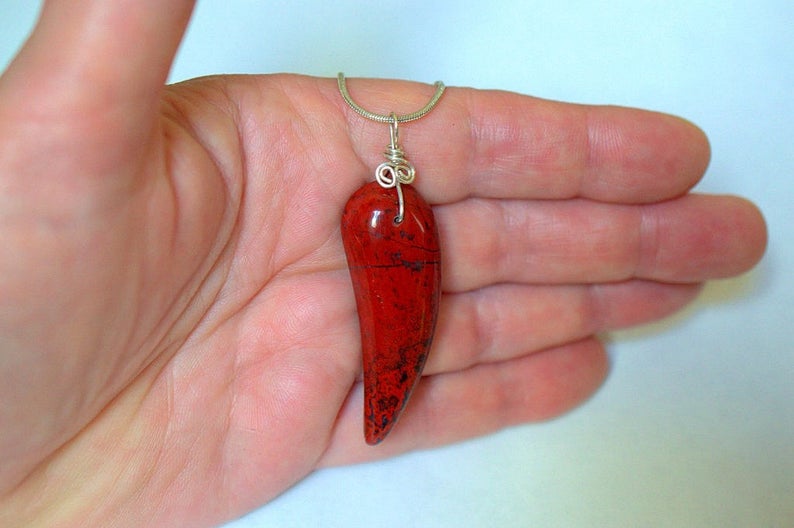 Red Jasper pendant, intense color jewelry