When designing a pendant, most of the times it's the stone's pattern what find the shape. This happened with this large agate gemstone, when the bending showed what wanna be. The raw stone, collected in the surrounding Rocky mountains not too long ago. The boulder had only a small part what contained this stunning red pattern, so it had to cut in the pendant, that's the reason for the larger size.
Our gemstone sizes usually under 40 mm, but lately the demand for larger stones increased, especially by taller woman.
Agate is a very popular jewelry stone, and fortunately it's abundant in our area, however nicely banded specimen is a rare find. It said the red pattern in agate opens one's heart. Hopefully this necklace just might do that.
The pendant is hand polished on lapidary diamond wheels to a bright shine and smoothness. Set with sterling silver 21 gauge square and half round jewelry wire wrapping, what is a stylish modern method, shows that, it's a real handmade jewelry, also the stone's entire size visible. A silver plated 20" x 1.5 mm snake chain necklace included to the listing price. A longer 24" chain also available upon request.
stone size: 43.6 x 25.2 x 8.6 mm 73.30 ct.
overall pendant height: 58.6 mm
We have a large collection of different raw agate specimen available for custom size and shape cutting.
Fast US bond shipping by USPS via chit-chat express, daily. No custom delays or tariffs involved, most cases 4-5 business days delivery time. Tracking provided by email within 24 hours of confirmed payment.
International shipping also by USPS, or by ASENDIA if destination available, a one time charge of $9.25 (CAD) added at checkout.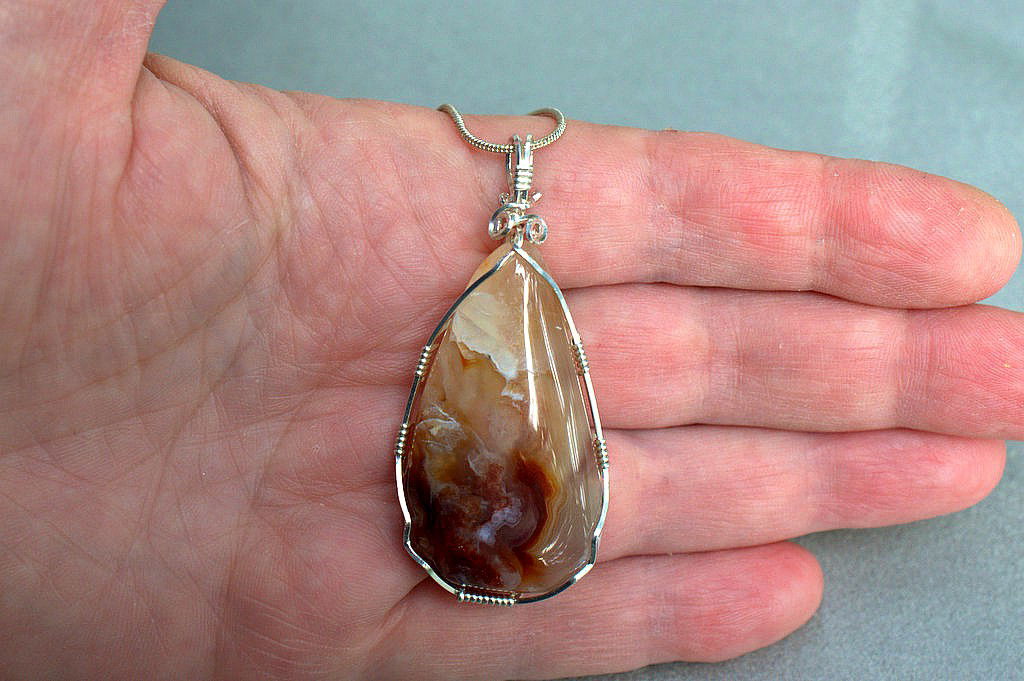 Red pattern agate pendant, large gemstone necklace