This rose quartz pendant cut from locally prospected British Columbia crystal. One of the most favored gemstone for young girls. Probably that's the reason for the name of the stone of unconditional love. History proves it, Rose quartz is used since the 6th century as a love token, and still the best present what a boyfriend can give to win her heart.
Rose quartz is a crystal composed by silicon dioxide, widely available all over the world, specially where volcanic activities formed the landscape. It's usually a hazy inner fractured stone, what allows us gem cutters to design dimensional effects into the pendant. The clear transparent variety usually cat to smaller cat's eye rings and earrings. This stone is collected in the Canadian Rocky mountains, cut by us in our shop. Designed to free form shape, polished on diamond wheels up to 50.000 grit glassy smoothness and shine. Drilled and set with sterling silver 21 gauge round jewelry wire created hanger, a modern style trendy method, what focuses to show the whole stone, yet holds it firmly and secure in place. The pendant comes with a silver plated 20" x 1.5 mm snake chain necklace. 20" is the average woman size, should fit for almost everyone, however if you prefer a shorter 18", or longer 24" chain, please make a note at checkout for the desired length.
stone size: 34.9 x 19.3 x 12.2 mm 52.30 ct.
Raw rose quartz still available for custom size and shape cutting, with optional setting. We can drill it too, if you just want to hang a plane stone.
Free shipping to Canada and USA. Worldwide shipping also available, please check estimated USPS rates here. A cost effective alternate shipping method might be also available with ASENDIA, please contact with destination info. They don't deliver to all countries.
We have a large collection of jewelry quality raw crystals and minerals from all over the world, if you looking for a specific stone, don't hesitate to contact us, we might have your stone.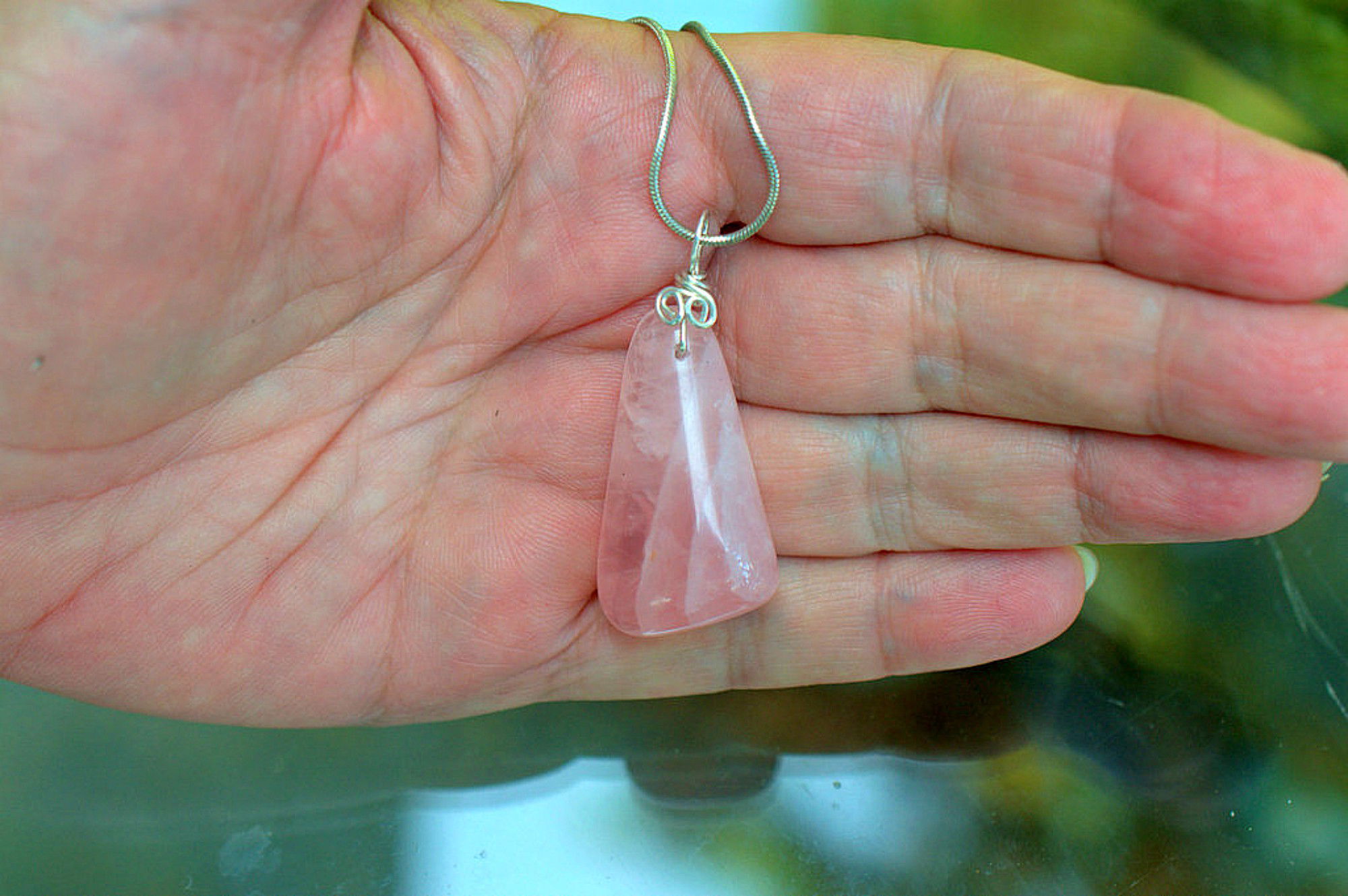 Rose quartz pendant, silver wire wrapped gemstone