Natural green Fuchsite mineral stone Ruby crystal pendant. The stone is hand cut designed to free form shape by following the focal red crystal,hand polished on diamond wheels up to 50.000 grit. Has a nice bright shine. Sterling silver square and half round wire wrapped to make it a pendant, the gemstone pendant comes with a silver plated 20" x 1.5 mm snake chain necklace. It's a nice thick stone 10.3 mm with high domed face and flat back side. Makes a unique piece of jewelry or a good use as a spiritual stone.
stone size: 46.8 x 21.1 x 6.2 mm 53.50 ct.
overall pendant size including chain ring, 61.8 mm
total weight without necklace, 12.67 gr.
Fuchsite and ruby two different stone with comprises energies. Its believed to stimulate the intuition of the wearer, and brings awareness to problems. Known to release emotional stress, and easily deals with lifestyle and social issues.
We never treat, dye or color, or alter our stones in any ways, these are all 100% natural crystals and minerals with a little human touch.
We have over a thousand pounds of mostly self collected raw gemstones ready to cut for jewelry. If you looking for a specific specimen, contact us we might have your stone. Custom shape and size cutting with preferred setting method available with no payment or deposit upfront.
Free shipping to US and Canada. For International order, please contact for rates and options.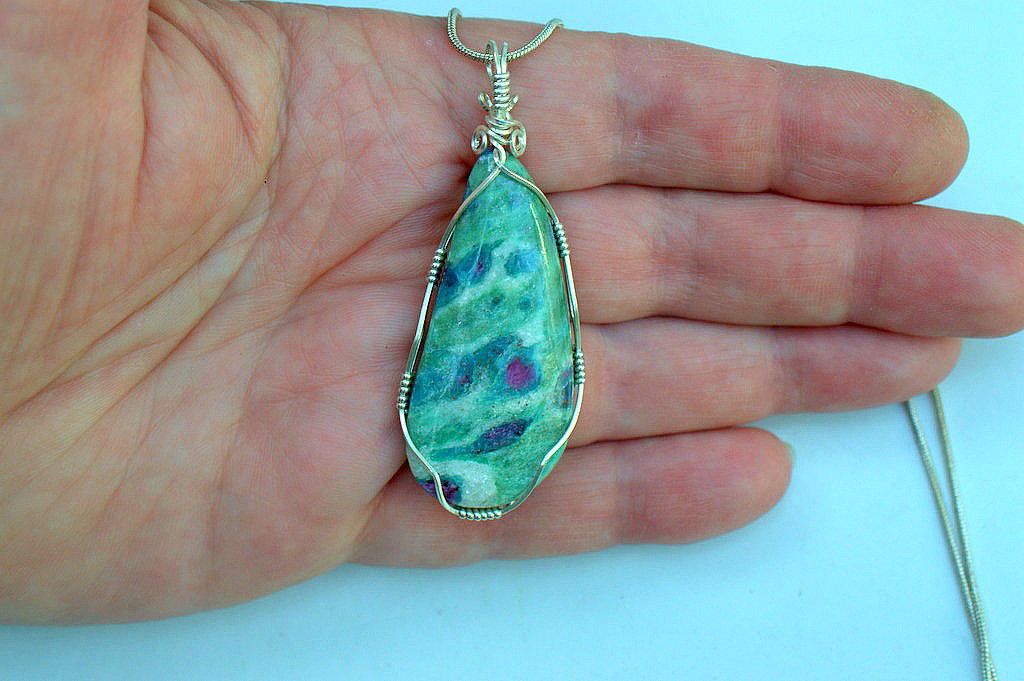 Ryby crystal pendant necklace