Large size Ruby Fushsite necklace, designed shape forest green stone pendant handmade jewelry. This natural mineral known as the most powerful healing crystal. The nature green base color with it's stunning and soothing pattern already makes it an eye catching jewelry piece, and combined with red ruby, what known as the best reliever for chronic illnesses, this stone is on the top of the metaphysical list. For emotional healing, it used to reduce self-neglect, and calms aggressive behavior toward other people.
Fuchsite stone is a variety of Muscovite mica, the green color claimed by the amount of the mineral Chromium, and a relatively soft stone 2-3 on the scale of 1 to 10. Ruby however is the second hardest crystal on earth, one of the most valuable Corondum. The combination of the two variety, makes it a very desirable jewelry.
The pendant is cut from a natural boulder, slabbed and selected for quality, pattern and for the amount of ruby in it. You can see the slice of stone, what this pendant was cut from here. Designed to a quite a large size free form shape pendant, polished on diamond wheels up to 50.000 grit smoothness and a bright shine. If you have a UV light, check how the ruby glitters under it. Set with sterling silver 21 gauge square and half round jewelry wire wrapping, what focuses more to the stone than the setting, yet holds the stone firmly in place. A silver plated 20" x 1.5 mm snake chain necklace is included with the purchase of the pendant.
A limited quantity of raw Ruby Fuchsite still available for custom shape and size cutting.
stone size: 39.3 x 20.2 x 6.7 mm 52.10 ct.
We have a large collection of jewelry quality crystals and minerals, ready to cut to pendants. If you looking for a specific stone, don't hesitate to contact us, we might have your stone.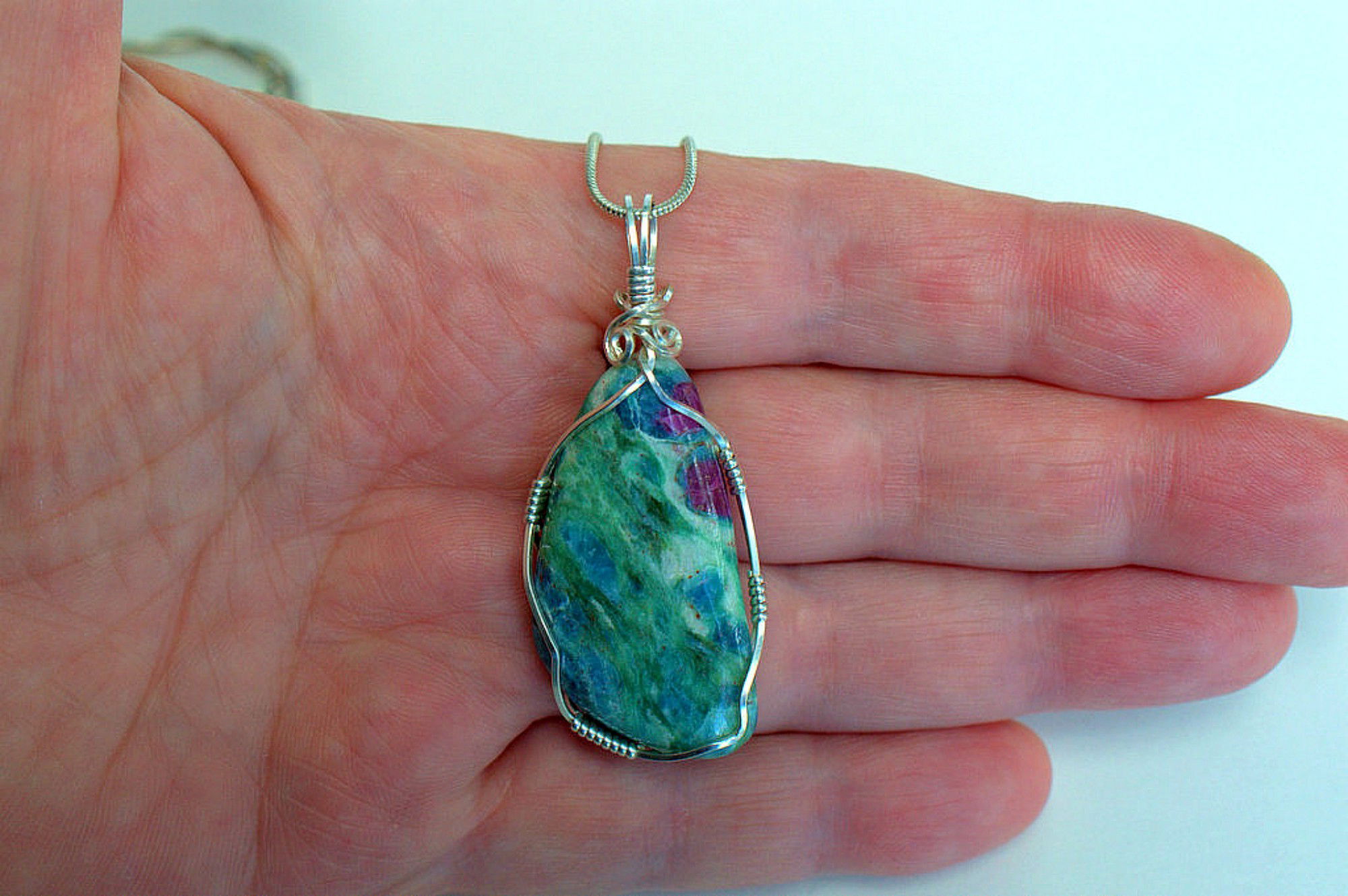 Ruby Fuchsite necklace, green stone pendant