No one can deny that, a sacred love stone, like this large moonstone pendant reminds the hot summer night, when the moon is shining on the skies is the time for love. The romantic feeling we all had there and then, stays in our relationship for ever. This blue hue gemstone is a perfect gift to show affection, and to refresh the memory of that special moment.
Moonstone admired by many cultures for centuries, with different meaning and symbols, but it's always about love and caring.
This raw stone's origin Thailand, where the most beautiful specimen found. After the test cut, the angle of the next slab been decided by reflection of the hue. This large size oval pendant has a nice flash like blue reflection, shows different shape and pattern in every direction turned. Set with sterling silver triple lined round and half round jewelry wire wrap setting, a modern style method, what shows the entire size of the stone, with firm hold. The pendant comes with an also sterling silver Italian made 1.05 mm thickness snake chain necklace in 18", 20", 24", lengths to choose from. Make note at checkout for preferred length.
stone size: 41.9 x 20.1 x 6.2 mm 46.05 ct.
overall pendant size including setting: 57.5 mm
Raw high-grade moonstone is hard to find, we keep trying to make best quality pendants, with different sources of crystals. If you prefer a custom shape or size moonstone pendant, please contact us for available grade quality.
Free shipping to Canada and USA.
US bond shipping by USPS via chit-chat express, fast and tracked, 4-5 business days delivery time in most destinations. International shipping by estimated first class rates, please see it here.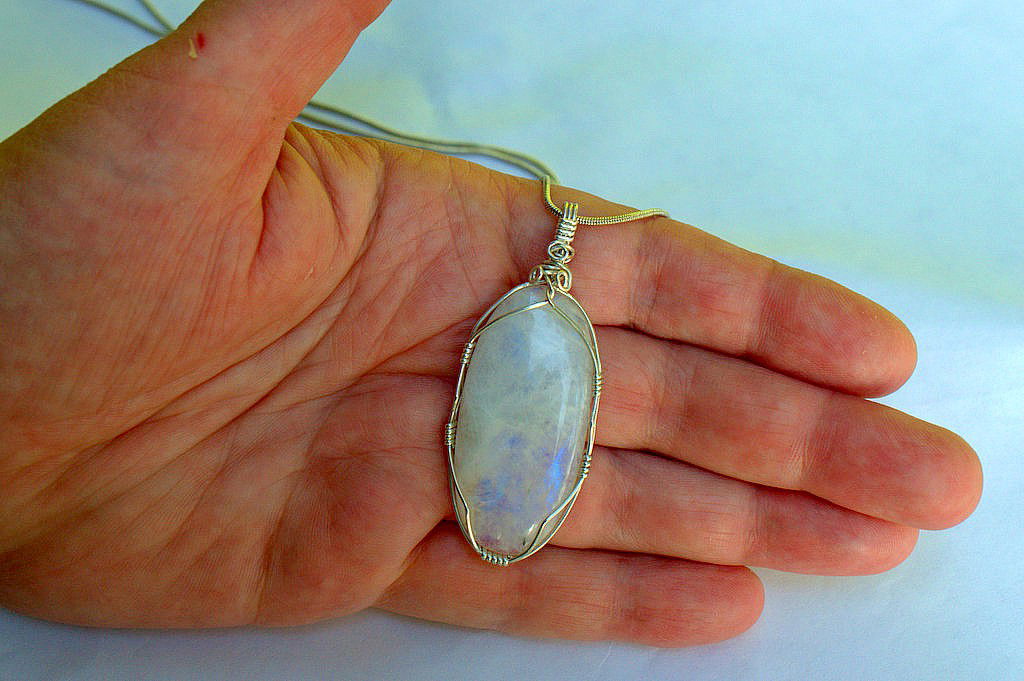 Sacred love stone, large moonstone pendant