Australian mineral Script stone gemstone pendant.This fascinating sedimentary stone has many names, best known as Miriam Jasper, Coquina Jasper and also called as Calligraphy stone. It's mainly composed Calcite and Phosphate and the patterns caused by seashells and corals. A free form shape quite a large size pendant with sterling silver 21 gauge square and half round jewelry wire setting and with a 20" x 1.5 mm silver plated snake chain necklace. It's a kind of softer stone but takes a nice polish, makes an interesting piece of jewelry with the usual Jasper metaphysical properties.
stone size: 23.5 x 41.3 x 7.9 mm 64.60 ct.
Free shipping to US and Canada. For International order, please contact for rates and options.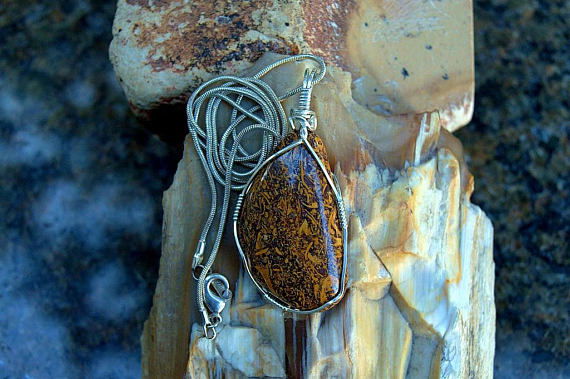 Script stone gemstone pendant Australian mineral