Sky blue semi precious gemstone, natural earth mined Arizona Chrysocolla .This beautiful specimen comes to our shop as a raw stone direct from the quarry see it here. Chrysocolla is a copper mineral, basically a mixture of the well-known Malachite and a deeper sea blue Azurite, yet identified as a unique specimen. One of our favorite jewelry stone, what we collect from all over the world, because of its stunning color and for the polishing result what this stone takes, not to mention the demand for it as a spiritual medium. This specimen is a so called gem silica version, means copper mineral in agate. The only reason, why we don't call it that, because of the inclusion of the native mineral Cuprite.
Chrysocolla is a peaceful stone, it said discharges negative energies, and balances our emotion. Called the stone of communication, helps to emphasizes our words to make it more powerful, encourages to surface the truth and inner wisdom. Also known as the stone of forgiveness.
The pendant cut to a designed teardrop shape, by following the nicest pattern. Polished on lapidary diamond wheels up to 50.000 grit smoothness and a brilliant shine. Drilled, and set with sterling silver 21 gauge round modern style jewelry wire created twist cap hanger, what focuses to show the entire size of the gemstone, yet holds it firm and safe in place. It comes with an also sterling silver Italian made 1.05 mm thick smooth snake chain necklace, in four optional lengths. 16", 18", 20", 24" lengths available to choose from, please show preferred length by leaving a not at checkout.
stone size: 37.1 x 15.5 x 8.3 mm 33.15 ct
pendant overall size, 47.7 mm
A one time shipping charge added at checkout. To Canada $4.40 USA $6.25 Rest of the world $20.35
Sorry we don't sell the raw stone, we cut our pendants our-self, and we use all we get.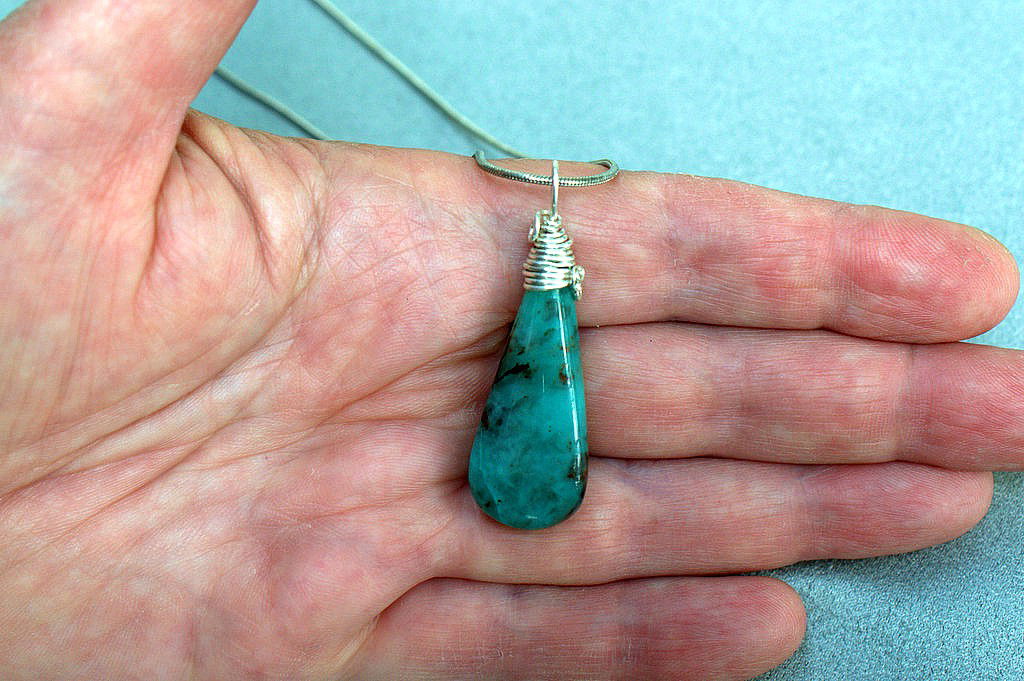 Semi precious gemstone, blue Chrysocolla necklace