A fairly common Serpentine stone necklace, deep green color swirly pattern mineral from the Fraser river British Columbia. Large size oval shape pendant, with sterling silver 21 gauge square and half round jewelry wire wrapping, and with a 20" x 1.5 mm silver plated snake chain necklace.
stone size: 40.1 x 24.1 x 7.1 mm 69.50 ct.
overall pendant height: 53.5 mm
Serpentine is a widespread rock, found all over the world. Because its black spotted pattern what resembles the skin of the snake, the name derive from the latin origin word serpent. It's not considered as a gemstone material, but some specimen has unusual pattern and color, so it might worth to make jewelry out of it. This stone is found in the Fraser river, and for a long time we thought, it's Jade, however after the test cut, revealed its thru identity. The pattern just speaks for itself.
Serpentine as a talisman, worn for centuries, as a protection and healing stone, believed to cure snake bites. Nowadays a popular jewelry, because its attractive color and the excellent shiny polish what it takes. Metaphysically recommended as a crystal what shows the thru meaning of our life purpose, and helps us to go ahead with wisdom and common sense.
Raw serpentine still available for custom shape and size cutting.
Free shipping to Canada and USA. International shipping by USPS, a $9.25 CDN charge added at checkout.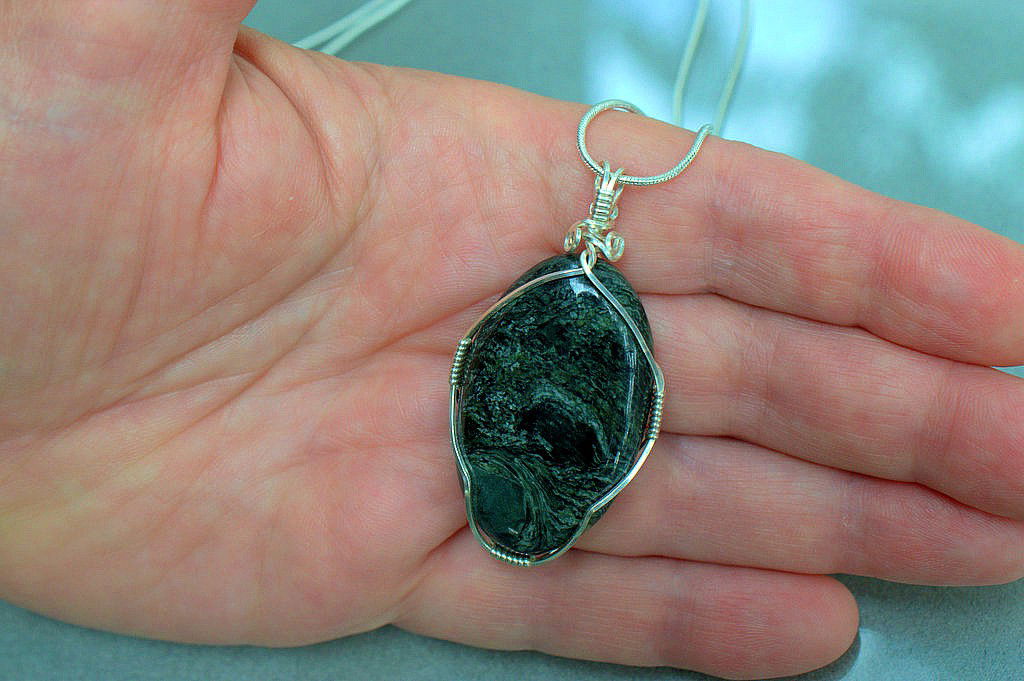 Serpentine stone necklace, swirly pattern mineral, oval pendant