When you think you need a sex life booster, you can always rely on Tiffany stone. If you'r a husband or boyfriend who thinks the fire is fading, a nice piece of jewelry just might give a little fuel to keep the flames, and ladies!, surprise yourself, it'll brings his attention for sure. Tiffany stone is considered as the purple passion in the spiritual world, with high energy vibration what help to connect deeper with your partner.
This pendant is an unusual form of the specimen, it came direct from the quarry, cut and designed in our shop, see the slab here, what we used to cut this pendant. It's a nice medium size natural stone, polished on diamond wheels up to 50.000 grit smoothness and shine, set with sterling silver 21 gauge triple lined round and half round jewelry wire wrapping and with a sterling silver Italian made smooth 20" x 1.05 mm snake chain necklace. The 20" chain is the average size for women, however if you prefer shorter, or longer chain, also available in 16", 18", and 24". Please make a note for preferred length at checkout.
stone size: 35.9 x 16.1 x 7.6 mm 27.95 ct.
Raw Tiffany stone is coming in to our shop time to time, custom size and shape cutting available.
A one time shipping charge added at checkout. To Canada $4.40 USA $6.25 Rest of the world $20.35
A cost effective alternate International shipping method might be available with ASENDIA, please contact with destination info for rate quote, Not all countries supported.
We have over a thousand pounds of jewelry quality minerals in our collection, if you looking for a specific stone, don't hesitate to contact us, we might have your stone.
All of our pendants are 100% natural crystals, minerals. we never dye, color or treat our gemstones. We believe in its natural beauty, just giving a little human touch to it.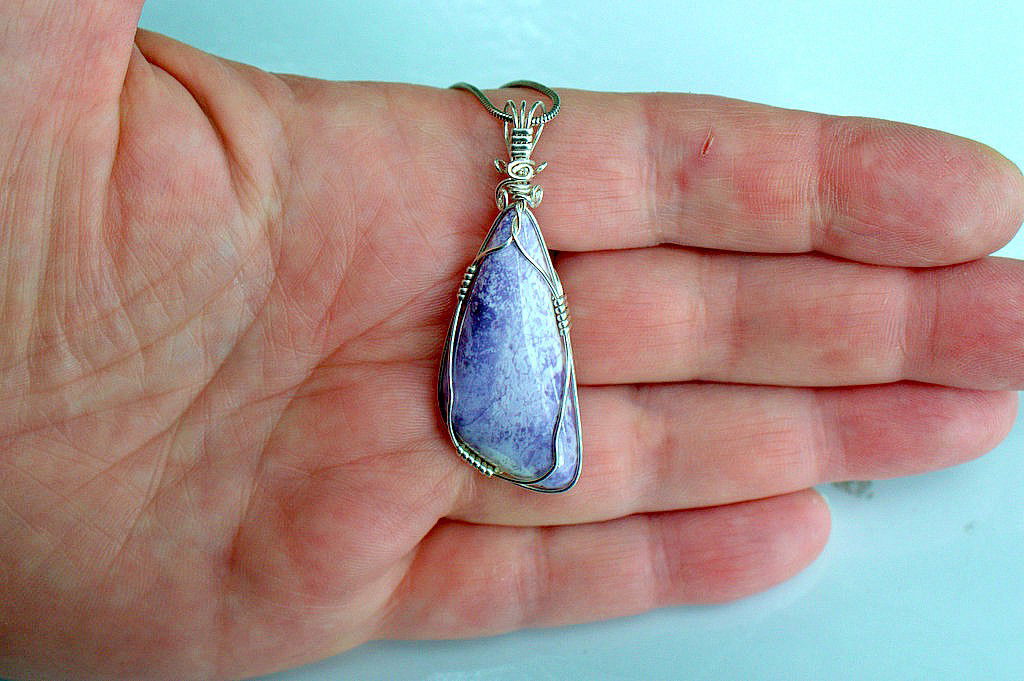 Sex life booster, Tiffany stone pendant necklace