This deep celestial shiny blue stone was highly priced since our human history began. Lapis Lazuri always been and still considered as the symbol of wisdom and truth, honor and royalty. The intense blue color caused by the lazurite silicate mineral, and most of the time contains white vein inclusion of calcite or gold like sparkly pyrite. The purer blue the stone, the more highly regarded as jewelry material. Lapis in history was most used by Egyptians, they believed the stone has magical power. According to their theory the soul lives in the mind, and lapis can purify it or cures mental illness.Also was used in rituals as the stone that can give a safe passage to the deceased to protect from evil.
This pendant has all the qualities, what a natural stone can offer. The face is deep blue with evenly distributed pyrite, the back has come calcite inclusion. Cut to a medium size oval shape, and polished to a bright finish on diamond wheels up to 50.000 grit smoothness. The wrapping is a trendy modern style design made with sterling silver non tarnish 21 gauge square and half round jewelry wire, what focuses to show the stone as much as possible.
stone size; 35.1 x 24.5 x 7.3 mm 59.35 ct.
Lapis Lazuri gemstone because of its color and metaphysical properties, is suitable for both sexes.
We have over a thousand pound of raw natural stones and minerals on stock, if you looking for something special, contact us we might have your stone. Our stones are all 100% natural, we never die, treat or color our stones, our slogan is, that nature already created these beauties, we just add a little human touch to it.
Free shipping to Canada and USA. We ship worldwide, please check estimated rates at top right highlighted menu button, or contact us with destination.
An alternate cost-effective shipping method might be available with ASENDIA. Custom cut gemstone pendants in any shape sizes, and preferred setting available.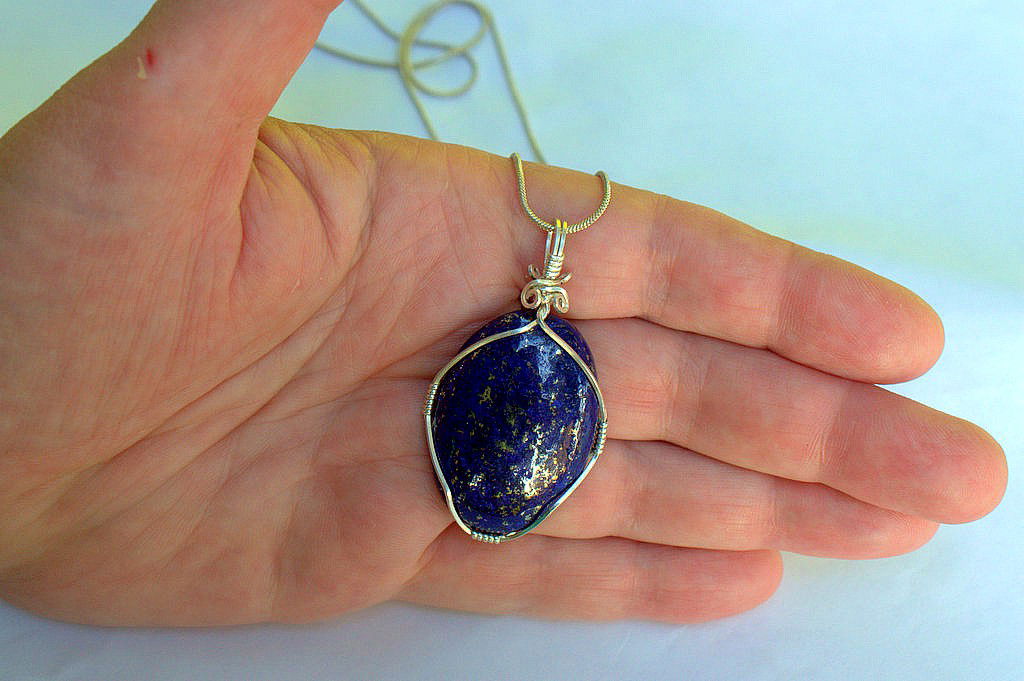 Lapis Lazuri gemstone pendant, shiny blue stone necklace