This cute Arizona Chrysocolla pendant, cut from a large boulder, what we bought direct from the quarry. A very interesting light blue copper mineral, what is actually blended with Chalcedony, and in this form became a translucent crystal, what shows beautiful when light held behind. The shape of the pendant designed to display a bit of the host rock, red-brown Cuprite, what really characterize the nature of Chrysocolla.
High polished to a bright shine and glass like smoothness on lapidary diamond wheels up to 50.000 grit. No chemicals or harmful materials used during the process only water for cooling. Drilled with 1 mm hole on top, and set with sterling silver 21 gauge round jewelry wire created twist cap and joined hanger. The wire runs through the drilled hole, the stone never gets loose or lost.
A silver plated 20" x 1.5 mm snake chain necklace included in the listing price, however if you have base metal allergies, we can supply a 2 mm thick black leather necklace instead of the chain.
stone size: 37.8 x 13.8 x 8.4 mm 29.45 ct.
overall pendant height: 47.5 mm
Raw Chrysocolla still on stock, custom shape and size cutting available.
Fast US bond shipping by USPS via chit-chat express, daily. No custom delays or tariffs involved, most cases 4-5 business days delivery time. Tracking provided by email within 24 hours of confirmed payment.
International shipping also by USPS, or by ASENDIA if destination available, a one time charge of $9.25 (CAD) added at checkout.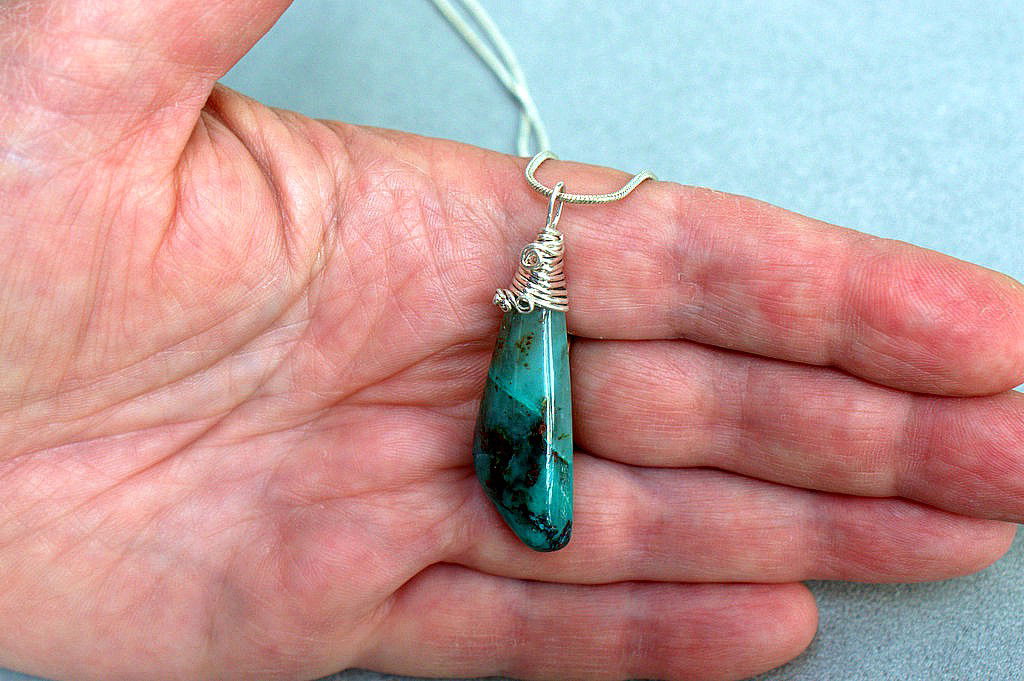 Silver set blue stone, Arizona Chrysocolla pendant