It's a nice large size silver set red Jasper hand cut designed shape gemstone pendant. The raw specimen prospected in the surrounding Canadian Rocky mountains. Besides the intense red color, the peculiarity of the stone is the presence of quartz and hematite, what makes this a one of a kind jewelry piece. If you look for a gemstone for metaphysical purposes, well this stone just might arouse your interest. Red Jasper, as the stone of endurance, merged with the master healer quartz, and Hematite as a seeker of new approach, imagine the power what you can meet with this gem.
The shape of the cut, is the so-called free form, designed to include the nicest pattern. Polished on lapidary diamond wheels with an eight step method up to 50.000 grit final bright glassy finish. The setting is a modern style method, designed to show the whole stone, yet has the prestige of the precious metal presents. Wrapped with sterling silver 21 gauge square and half round jewelry wire, what holds the stone firm and safe in place. A silver plated 20" x 1.5 mm snake chain necklace included. Because of the stone's size, it recommended for taller person, longer 24" necklace also available, make note at checkout for preferred length.
stone size: 43.5 x 21.2 x 9.1 mm 60.05 ct.
Raw red Jasper still available, see it here,for custom size and shape cutting.
Free Shipping to Canada and USA. International shipping available with estimated USPS rates.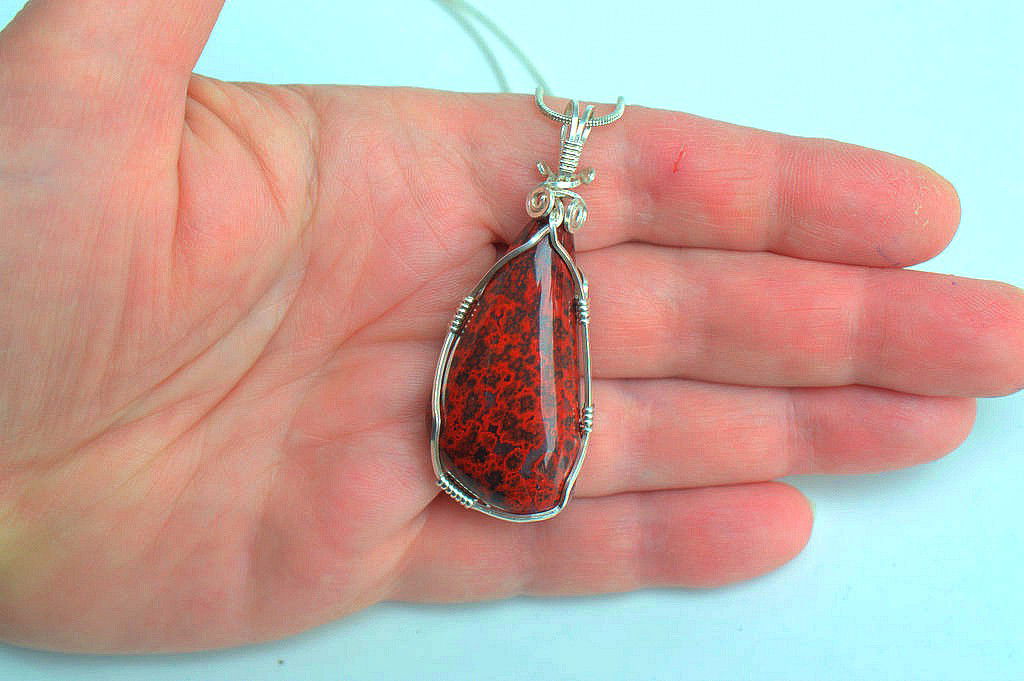 Silver set Red Jasper, hand polished gemstone