Black and white pattern silver wire wrapped, Vancouver island's pride and joy, Dallasite gemstone pendant.
We made it to our mission to spread the popularity of this wonderful mineral. Two-three times a year we take the one hour forty minutes ferry ride from the mainland to collect new stones. The raw stone goes through a test cut session, and by selecting the ones, what has the nicest pattern, design it and cut it to shape. The polishing starts with a coarse 60 grit lapidary wheel, and by doubling the grit fines up to the 50.000 finish. Each step gets the pendant smoother, and by the end its brilliant shiny. The abstract like pattern always stunning, and never two look-alike. No wonder that this mineral made it to the third place to British Columbia's official gemstone list.
As a unique specimen, discovered not too long ago, qualified as a type of Jasper. No metaphysical properties written about it, except the general information as Jasper.
The pendant set with sterling silver 21 gauge round wire created hanger, shows the entire size of the stone, and with an also sterling silver Italian made smooth 1.05 mm thick 18", 20", 24" snake chain necklace. Choose the preferred length, please make note at checkout.
stone size: 39.1 x 18.5 x 7.8 mm 51.60. ct.
overall pendant height:50.4 mm
Raw Dallasite gemstone always on stock, custom shape and size cutting available.
A one time shipping charge added at checkout. To Canada $4.40 USA $6.25 Rest of the world $20.35
Fast US bond shipping by USPS via chit-chat express, daily. No custom delays or tariffs involved, most cases 4-5 business days delivery time. Tracking provided by email within 24 hours of confirmed payment.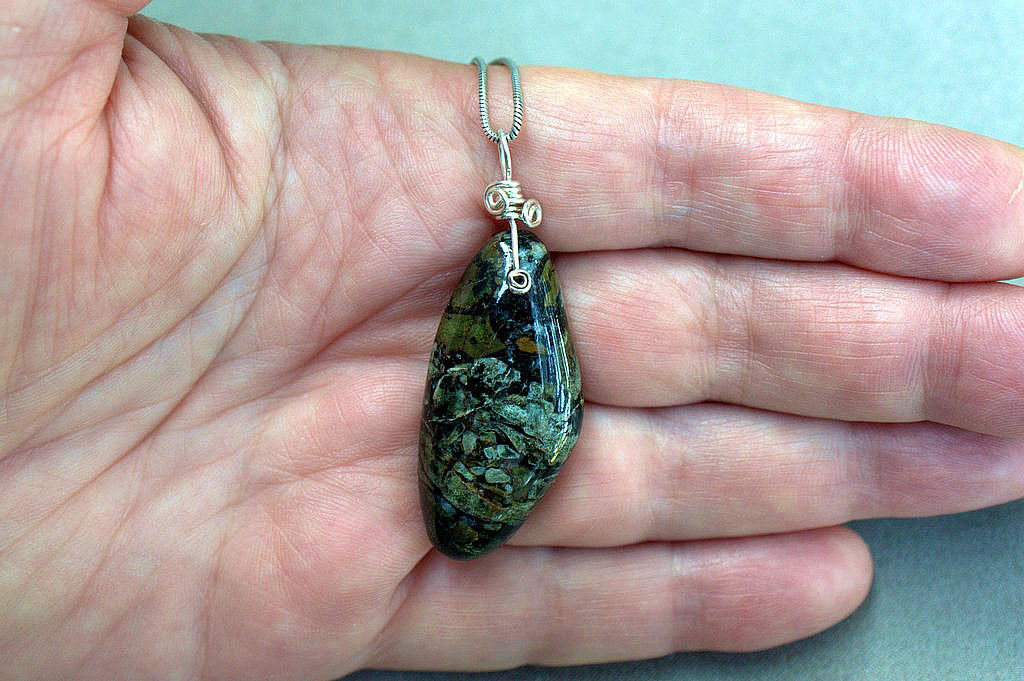 Silver wire wrapped, Dallasite gemstone pendant