21 gauge sterling silver wire wrapped gemstone pendant. This triple lined modern style setting is a safe method to hold the stone firm in place and show the best qualities as a handmade jewelry. Deep green natural Malachite pendant with different shades of lines. This medium size copper mineral earned its reputation over centuries not only as jewelry. In the spiritual world considered as the best protection stone for travelers, especially for those who has fear of flying airplanes. It said sooth anxiety and stress in any conditions. Because of its color and unique pattern makes it suitable for both sexes.
The pendant is hand cut and hand polished on diamond wheels up to 50.000 grit smoothness and bright shiny finish, the pattern designed into a medium size oval shape to show the best part of the stone. There isn't two look alike cut, every other pieces shows different swirly or lined pattern. The pendant comes with a silver plated 20" x 1.5 mm snake chain necklace, with the option of change the length to your preference. Shorter 18" or longer 24" also available, please ake a note at checkout for your desired length.
stone size: 31.7 x 20.3 x 6.5 mm 47.10 ct.
Free fast shipping to Canada and USA. For international order, please check estimated rates at top right highlighted menu button. A cost effective alternate method might be also available with ASENDIA, please contact us with your destination info, not all countries supported.
We have a large collection of jewelry grade crystals and minerals, if you looking for a specific stone, please write us, we might have your stone, what we can cut to custom size and shape with any settings.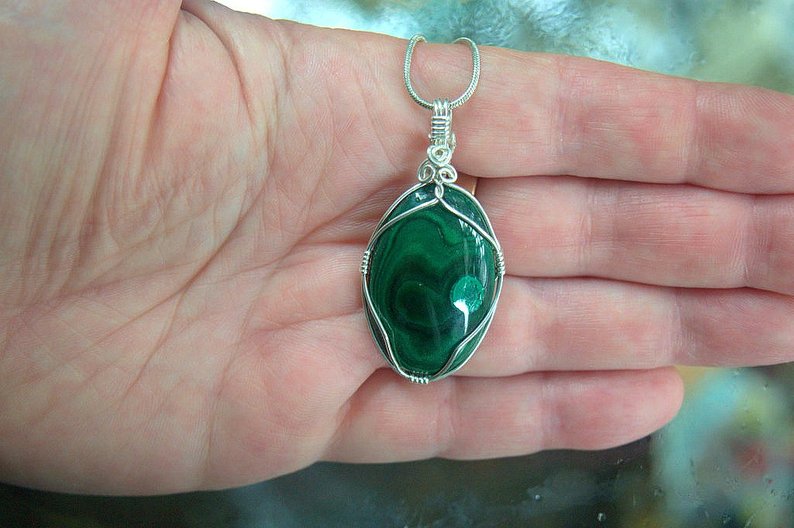 Silver wire wrapped Malachite pendant