Self collected natural mineral from Vancouver island. Rhodonite designed shape modern style pendant, polished to a brilliant shine on lapidary diamond wheels up to 50. 000 grit smoother than glass surface finish. Drilled with a 1 mm hole, set with sterling silver 21 gauge jewelry wire created hanger, and with a silver plated 20" x 1.5 mm snake chain necklace. An interesting color crystal, some areas pink others are light brown, with black veins.
stone size: 52.2 x 14.2 x 9.5 mm 58.85 ct.
overall pendant height, 62.5 mm
Rhodonite is an abundant stone on Vancouver island, however it's not easy to find. It's always black on the outside, so many rocks has to break or chipped for success. This specific stone found years ago, and taken aside, because the test cut didn't showed the typical bright pink color. Not too long ago, it just turned up from the pile of stones, and a new cut showed an awesome pattern, with some quartz inside it, so it was worth to try to polish a pendant out of it. Well...what a surprise this is a beautiful stone. This pendant doesn't have the quartz, but other shape and size listed has, see it in the gemstone pendants section.
Custom shape and size cutting available from the same stone.
A one time shipping charge added at checkout. To Canada $4.40 USA $6.25 Rest of the world $20.35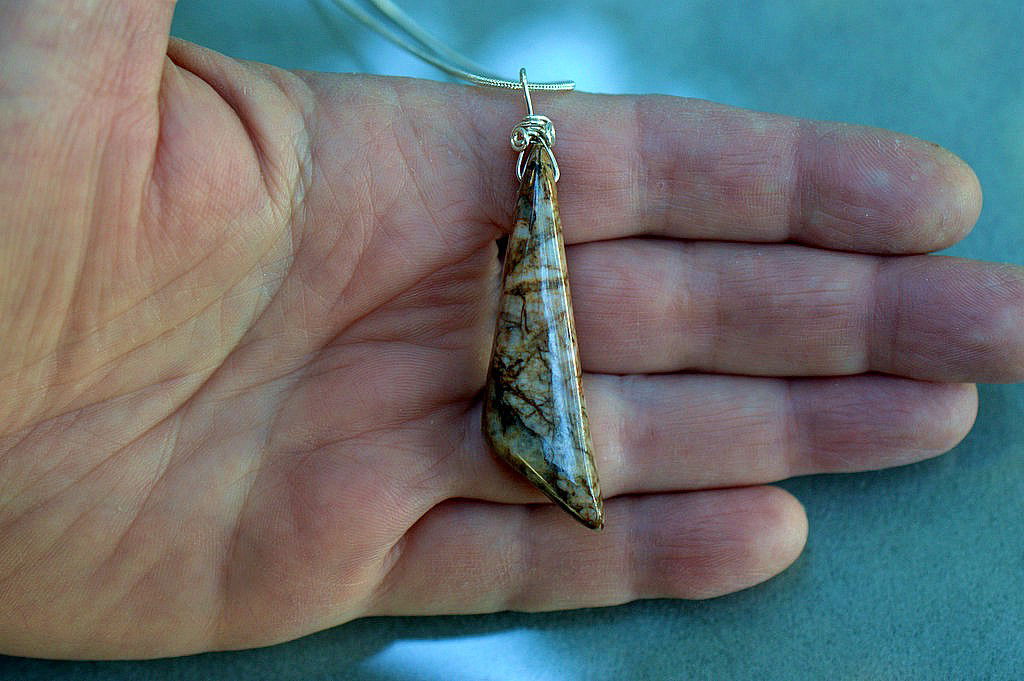 Sizable natural Rhodonite pendant - Sagastone