This natural mineral identified not too long ago as a unique crystal. Indigo Gabbro is a volcanic origin stone, a plutonic rock, forms deep in the earth's crusts, from high pressure in cooled lava. Various mixed crystals with Pyroxene what makes the irregular shaped pattern. Indigo Gabbro also called as mystic Merlinite, and originate from Madagascar. It became a very popular jewelry, and spiritual crystal with many interpreted properties.
This cute pendant designed to show, what this stone is about, by after the nicest pattern. Cut to a teardrop shape, polished to a bright shine on lapidary wheels. Set with sterling silver 21 gauge triple lined round and half round jewelry wire wrapping, and with a silver plated 20" x 1.5 mm snake chain necklace.
stone size: 36.5 x 19.6 x 5.9 mm 33.50 ct.
overall pendant height, 50.9 mm
Other different shape and size pendants cut from the same stone, also available in the gemstone pendant section of this website.
A limited quantity of raw Indigo Gabbro still available for custom shape and size cutting.
A one time shipping charge added at checkout. To Canada $4.40 USA $6.25 Rest of the world $20.35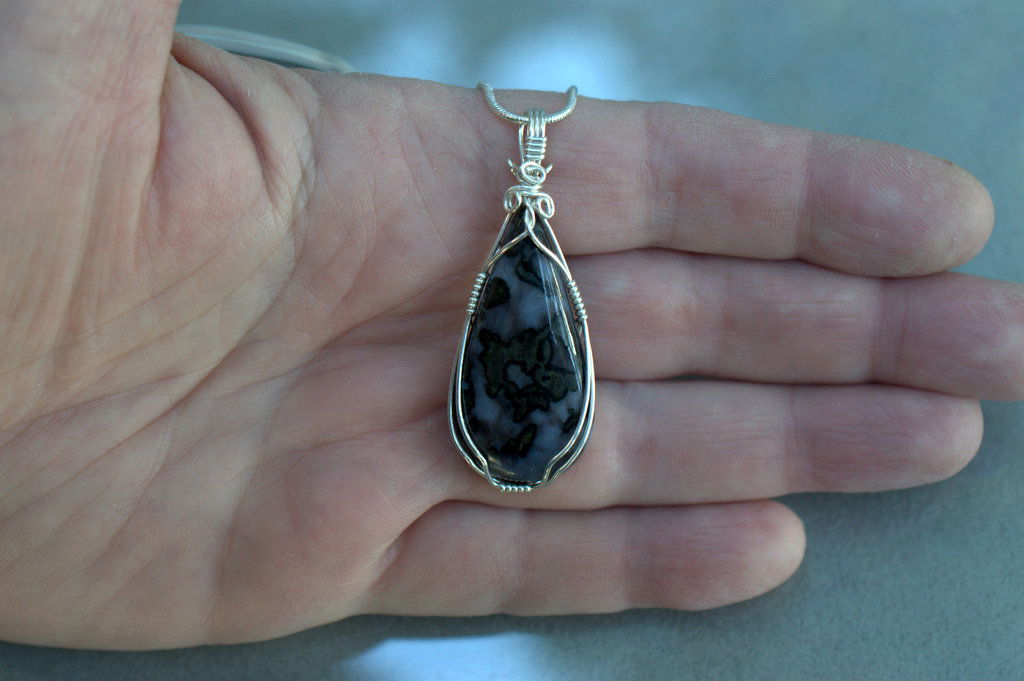 Spiritual crystal, Indigo Gabbro necklace - Sagastone